Print Friendly Version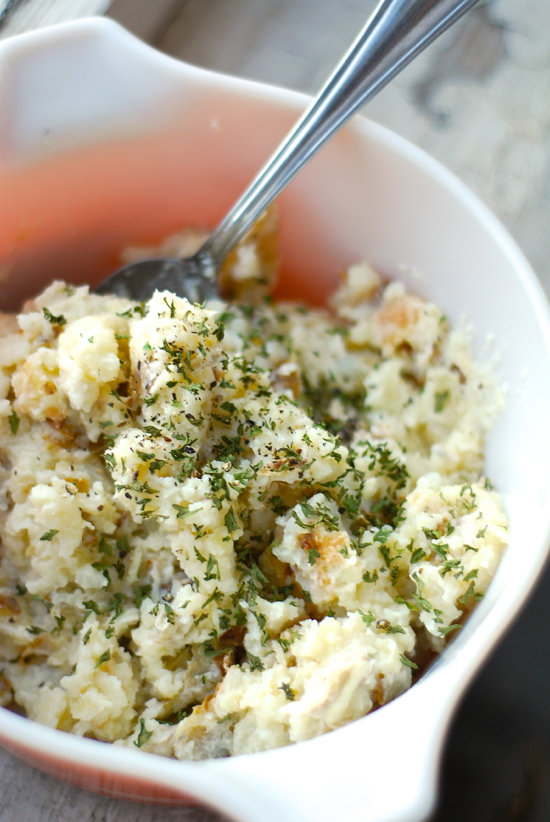 You can really never have too many great recipes for potatoes, as far as I'm concerned. I make them several ways: with browned butter, parsley & olive oil, cheese & bacon, "fanned" with fresh herbs, "Anna" style (my all time favorite!), on top of meatloaf "cupcakes", in the form of Polish pierogi, in brekky hash, in Amish potato salad, in Provencal potato salad, in fully-loaded cheesy baked potato chowder, on delicious potato-crusted salmon, in my grandpa Papa's potato salad, in these yummy, tender potato pancakes, in an Irish potato bake, in a healthy yogurt & mint potato salad, as crispy potato latkes, in tangy-sweet German potato salad, in a fancy Paris bistro potato leek tart, or in a cozy weekend brunch bake.
I especially love horseradish mashed potatoes with simple white wine chicken, steamed asparagus spears and oven-roasted parsnips. There's something absolutely amazing about this flavor combination. Try it and see…
4 lb. potatoes (peeled or unpeeled, any type)
2 cups sour cream or whole milk Greek yogurt
1 stick unsalted butter
3 or 4 Tablespoons prepared horseradish (I like "extra hot.")
2 Tablespoons chicken stock or broth
1 Tablespoon onion powder
sea salt and freshly ground pepper, to taste
Place the potatoes in a large stock pot. Cover with water and add some salt. Bring to a boil over medium-high heat and cook 20 to 30 minutes (until potatoes are tender and will pierce easily with a fork.) Mash potatoes in a large mixing bowl along with the rest of the ingredients. Season to taste with the salt and pepper. Garnish with chives or parsley.
Enjoy!
~Melissa
You may enjoy these related posts: