Print Friendly Version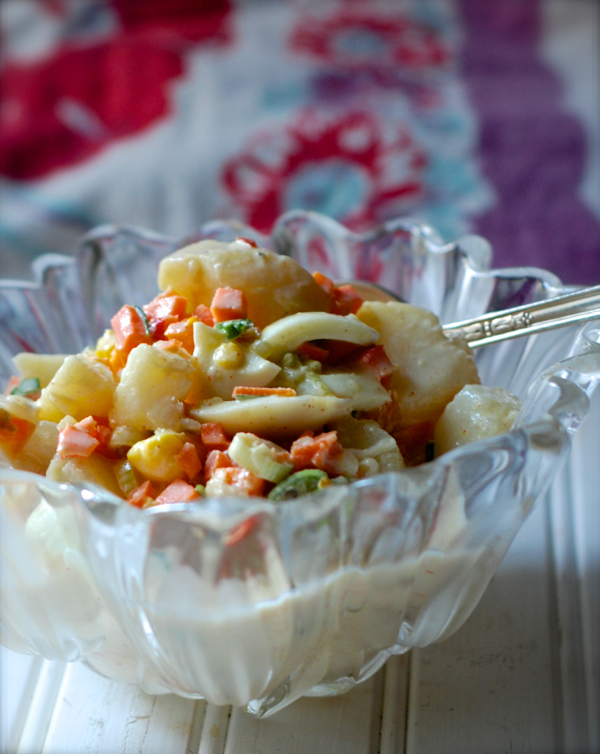 I can hardly believe haw fast summer is going by. July 22nd! Only so many more weeks to make lovely, refreshing summer food!
I thought I'd share a favorite potato salad recipe inspired by one that Jeff and I enjoyed at a little restaurant in "Amish Country" while on our honeymoon. Harmony is a charming Amish community in southern Minnesota, just before you get to the Iowa border. We spent a day there, touring some of the farms, shopping and sight seeing. It's such a lovely place and visiting is a bit like traveling back in time to a more gentle era. The Amish people wear simple clothing, drive horse-drawn buggies, rely on the sun, water and air for power ( in lieu of electricity), and they make some of the best food I've ever eaten!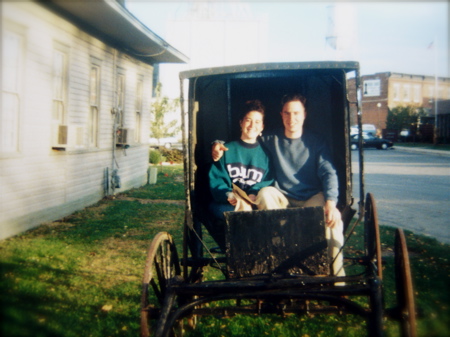 Melissa & Jeff, Harmony Minnesota, 1995
This unique potato salad is a wonderful accompaniment to THIS Amish Oven-Fried Chicken, THIS Amish Meatloaf, or as an addition to your favorite picnic fare!
for the salad:
12 to 15 smallish brown or red potatoes
1 small, yellow onion, chopped fine
1/2 cup red bell pepper, chopped
1/2 cup yellow bell pepper, chopped
1/2 cup carrots, chopped
6 hard boiled eggs, cooled, peeled and chopped
Boil potatoes for 20 minutes, or until just tender enough to easily pierce with a fork. Drain, cool completely and peel. Cut into big chunks and place in a big mixing bowl along with the onion, bell pepper, carrot and eggs.
for the dressing:
1 and 1/2 cups real mayonnaise
1/2 cup white sugar
3 Tablespoons sweet pickle relish
1 Tablespoon prepared yellow mustard
2 to 3 Tablespoons white vinegar
2 to 3 teaspoons paprika
1 teaspoon salt
1 teaspoon black pepper
a couple dashes cayenne pepper
Combine all dressing ingredients in a medium mixing bowl. Using a wire whisk, whisk until combined and smooth. Pour over the salad ingredients and gently fold into salad until evenly combined. Adjust ingredients to reach desired consistency and flavor. Cover and chill completely before serving.
Enjoy!
~Melissa
You may enjoy these related posts: