Print Friendly Version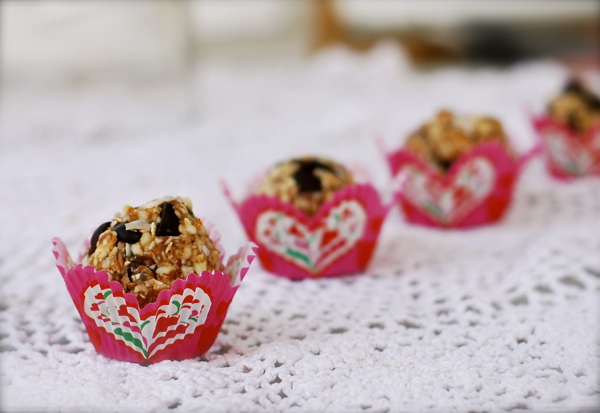 Every once in awhile the sweet tooth starts talking. I know how it is! You're trying to watch your sugar intake, you're exercising and you deserve a treat, damn it! Well, let me tell ya, these little truffles will come to your rescue. Not only are they chock full of chocolate chips, they're actually good for you! Not kidding. You can dissect them, ingredient by ingredient, and you won't find any funny business here.
1 cup raw almonds
1/2 cup chopped dates
1/4 cup gluten free rolled oats
1/4 teaspoon nutmeg
1/4 teaspoon sea salt
6 teaspoons almond milk
2 teaspoons pure vanilla extract
1/4 cup unsweetened, organic, toasted coconut flakes
1/4 cup dark chocolate chips (I used "Enjoy Life")
In a food processor, combine the almonds, dates and oats. Pulse until a coarse mixture forms. Transfer to a medium mixing bowl. Add nutmeg, and salt. Stir to combine. Stir in the almond milk, vanilla, coconut and chocolate chips. Moosh the ingredients to create a big clump of dough. If it seems too dry and isn't sticking together, add another teaspoon or two of almond milk. Remove pieces of truffle dough from the clump and shape into 1 and 1/2 inch balls. Place in mini cupcake liners or candy papers. Chill in fridge 30 minutes prior to serving.
Enjoy!
~Melissa
You may enjoy these related posts: