Print Friendly Version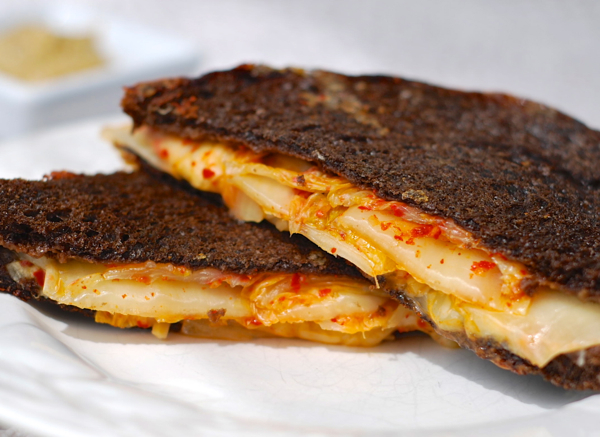 I've had a very specific craving this past week and it's for the crunchy, spicy, tingly, fermented cabbage called kimchi. I love the stuff with my banh mi sandwiches, on my toast along with soft boiled eggs, and on other less traditional things that I'll be sharing in the very near future. My latest obsession is kimchi on grilled cheese sandwiches. Sometimes I add bacon or corned beef and sometimes I don't. Here's my basic recipe, feel free to dress it up however you see fit. Horseradish can be used in place of the mustard, if desired.
for one kimchi grilled cheese sandwich:
2 slices pumpernickel rye bread
thin slices of Monterey Jack cheese (approximately 2 oz.)
1/4 cup hot and spicy kimchi (excess juice blotted or shaken off)
2 teaspoons grainy Dijon mustard (or your favorite spicy mustard)
butter
Butter each of the slices of bread on one side. Place one of the slices of bread (butter-side-down) on a cutting board. Spread it with the mustard. Place a layer of cheese over the bread slice followed by the kimchi and the other slice of bread (butter-side-up.)
Heat a skillet over medium-high heat. Transfer sandwich to skillet. Adjust heat so the cheese has time to get melty before the bread gets toasted. Once the bottom slice is toasted, gently flip the sandwich to toast the other side.
Remove sandwich from skillet. Cut it in half and serve with your favorite chips and pickled veggies.
Enjoy!
~Melissa
You may enjoy these related posts: