Print Friendly Version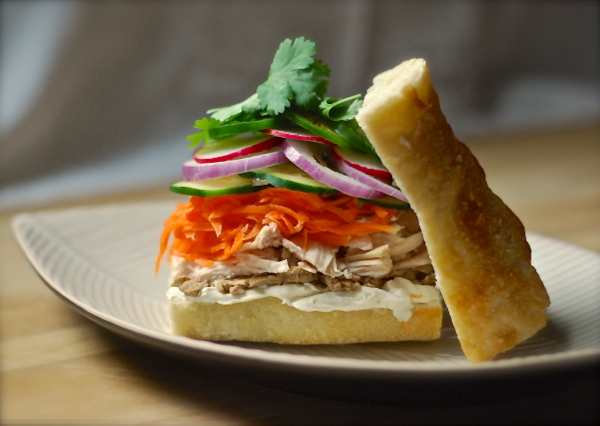 Authentic or not, this is how I like my Banh Mi sandwiches. The first time I had one was at a restaurant here in Red Wing called The Norton's (which has sadly closed it's doors.) They called their Banh Mis "Saigon Subs." I just love that name for this sammy, so I adopted it.
Feel free to use ham or pulled pork in place of, or along with, the grilled chicken in this recipe. There are soooo many different variations of the Banh Mi and I just think we should all make them the way we like them. The combination of fresh ingredients, piquant pate, creamy cheese, crusty baguette and spicy nuoc cham will knock your tastebuds for a loop. These are ridiculously addictive, so proceed with caution 😉
for 3 Saigon Subs:
on the bottom half of the baguette, building up:
bottom of 1 long, very fresh, crusty baguette (split horizontally)
softened cream cheese
chicken or pork pate (recipe below) room temperature
grilled chicken, grilled pork, pulled pork, shredded chicken or ham (use one or combination)
pickled carrot (recipe below)
thin radish slices, Daikon or regular
thin cucumber slices
fresh jalapeno thinly sliced
nuoc cham sauce (recipe below) or bottled Vietnamese fish sauce
fresh cilantro sprigs
top of sliced baguette spread with mayonnaise
a drizzle of Sriracha hot sauce (optional)
Assemble sandwiches in order given using as much of the ingredients as you like to fit your preference ( I like LOTS of pickled carrot and piles of cilantro!) Slice the long sandwich into 3 equal portions and plate. Serve with extra nouc cham or fish sauce, on the side, for dipping.
for the chicken liver pate:
1/2 lb. chicken livers
1/2 cup unsalted butter, softened
3 Tablespoons finely chopped onion or shallot
2 teaspoons prepared mustard
1/2 teaspoon sea salt
1/2 teaspoon garlic powder
1/2 teaspoon paprika
1/8 teaspoon cayenne pepper
2 Tablespoons dry white wine
Place livers in a small saucepan and top with just enough water to cover. Boil. Reduce heat to simmer and simmer gently for 20 minutes. Drain livers and place them, along with the rest of the ingredients, in the bowl of a food processor. Process for one full minute, until smooth. Pour into a bowl and cover tightly. Refrigerate. A half hour before you want to assemble your sandwiches, remove pate from fridge so it has time to come to room temperature and is smooth and spreadable.
for the pickled carrots:
These are best made the day before you want to make your sammies…
1/2 cup white vinegar
1/2 cup sugar
1 teaspoon lite soy sauce
2 cups coarsely shredded carrots
Place all in a small saucepan. Heat just until sugar has dissolved. Remove from heat. Transfer to a small container or jar with a tight fitting lid and push the carrots below the surface of the liquid as much as you can. Refrigerate for at least 6 hours before using on your sandwiches.
for the nuoc cham:
3 Tablespoons freshly squeezed lime juice
2 Tablespoons sugar
3 Tablespoons fish sauce, lite soy sauce or ponzu sauce
1/2 cup water
1 large fresh clove garlic, minced
pinch of red pepper flakes (we like ghost pepper!) OR 2 Thai chilies, chopped fine
Mix lime juice, sugar, water, garlic and chilies in a small saucepan. Heat and stir just until sugar is dissolved. Remove from heat. Transfer to a small container or jar with a tight fitting lid. Refrigerate until ready to use.
Enjoy!
~Melissa
You may enjoy these related posts: