Print Friendly Version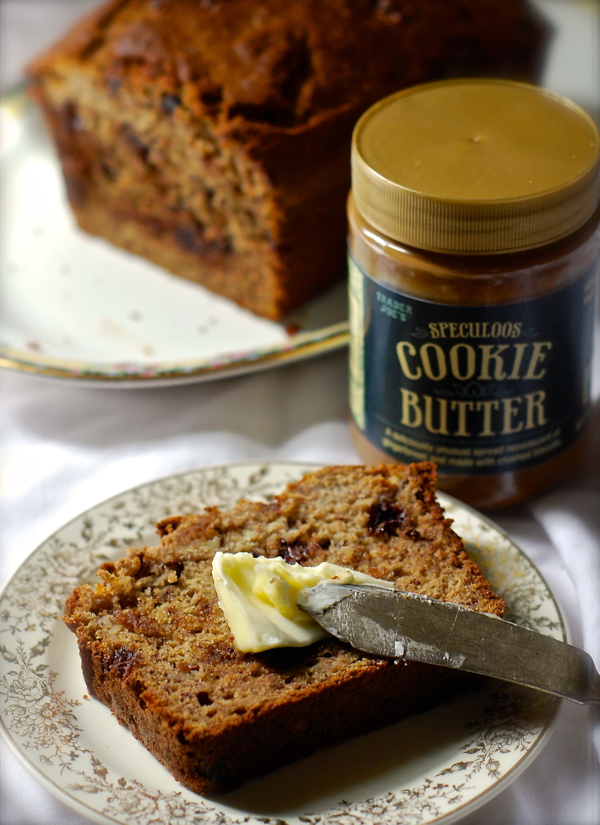 Gracie and I made this a few days ago and the entire loaf is gone. It's SO good! This is a fantastic way to use up some over-ripe bananas that may be lurking on the counter.
You can purchase Speculoos Cookie Butter at Trader Joe's.
~ preheat oven to 350 degrees F. ~
3 very ripe bananas, mashed
1/3 cup cottage cheese
3 Tablespoons unsalted butter, melted (we used Kerrygold, organic, grass fed)
3 large eggs, lightly whisked
1/2 cup Speculoos Cookie Butter OR Biscoff
1/2 cup sugar
1 cup all purpose, unbleached flour
3/4 cup whole wheat flour
1 teaspoon baking soda
1/2 teaspoon salt
1 teaspoon cinnamon
1/2 cup (heaping) semi-sweet chocolate chips
In a large mixing bowl, combine: bananas, cottage cheese, butter, eggs, cookie butter and sugar. Mix until all ingredients are evenly incorporated.
In a separate bowl, combine: flours, baking soda, salt, cinnamon and chocolate chips.
Add the dry ingredients to the wet ingredients and mix just until combined and everything is moist.
Generously butter a 9×5 loaf pan. Scrape batter into pan using a rubber spatula.
Bake for one hour, or until a toothpick inserted into the center of the loaf comes out with a few crumbs on it.
Cool in pan 10 minutes before turning it out onto a rack to cool completely. Slice cooled loaf and serve. Store the rest in an airtight container or on a covered cake plate for up to 5 days at room temperature. If the loaf lasts longer than that, store it in the refrigerator or freeze it.
Enjoy!
~Melissa
You may enjoy these related posts: