Print Friendly Version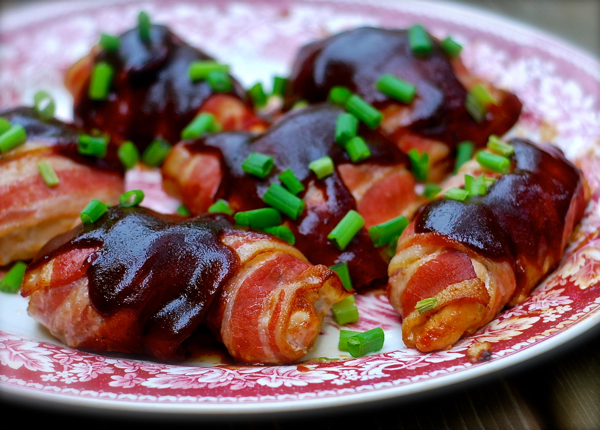 This is an easy, delicious way to make chicken. You can grill it or make it in the oven, whichever way you choose. If you decide to make it on the grill, cook it over medium heat and watch it closely so the bacon doesn't burn. You could always start it on the grill and finish it in the oven too. This recipe is pretty versatile.
I like to marinate my chicken breasts before cooking them whenever I have the chance. It adds an extra step, but it really does make the chicken taste wonderful. If you don't feel like marinading your chicken, or if you simply don't have the time, just omit that step.
If you like cheesy chicken, I provide an option for that too. The photo above doesn't include the cheese.
~ preheat oven (or grill) to 350 degrees F. ~
6 large fresh boneless, skinless chicken breasts
marinade, optional (recipe below)
12 pieces of bacon
8 oz. sharp cheddar cheese, optional
1 cup of your favorite BBQ sauce
chopped green onion or fresh chopped parsley for garnish, optional
for the marinade
1/4 cup BBQ sauce
3 Tablespoons olive oil
a splash of white wine or balsamic vinegar
1/4 teaspoon Lawry's seasoned salt
1/2 teaspoon freshly ground black pepper
If you're marinating the chicken, place the chicken breasts and all of the marinade ingredients in a large, heavy duty Ziploc bag. Remove as much air as possible. Seal. Smoosh the marinade around chicken so it gets evenly coated. Place bag in a bowl and chill in refrigerator for 2 to 24 hours prior to cooking the chicken.
Once chicken is done marinating, remove it from marinade and discard the marinade. Wrap each chicken breast with 2 pieces of bacon and secure with toothpicks, if necessary. Place chicken on a parchment-lined baking sheet (or grill.) Cook until chicken reaches 165 degrees F. when tested with a meat thermometer in several places. Once chicken has reached the 165 mark, spoon some BBQ sauce over each breast. If you're using cheese, place a slice over each breast, followed by a little more BBQ sauce. Cook just until cheese melts. Garnish. Serve immediately.
Enjoy!
~Melissa
You may enjoy these related posts: