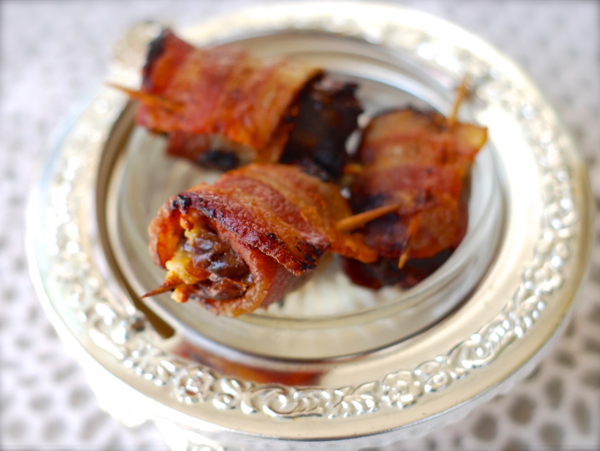 We recently tried these tasty little nibbles at a favorite local wine bar and they were out of this world. I decided I must recreate them at home, and they turned out fabulous. Serve as a cocktail party appetizer, or as the first course of a more elaborate dinner. I made two or three for each person, they are very rich, and could absolutely pass as dessert 😉
for 12 stuffed dates :
~ preheat oven to 375 degrees F ~
12 Medjool dates, pits carefully removed
3 yo 4 oz. gorgonzola or blue cheese
6 slices thick cut bacon, halved
When removing pits from dates, try to keep them whole. Fill with approximately 1/4 oz. gorgonzola cheese (I stuff them pretty full.) Wrap each stuffed date with a half slice of bacon. Secure with toothpicks. Place on a waxed paper-lined baking sheet. Bake in preheated oven for approximately 15 minutes. Flip dates and cook an additional 15 minutes, or just until the bacon is crispy.
Enjoy!
~Melissa
You may enjoy these related posts: