Print Friendly Version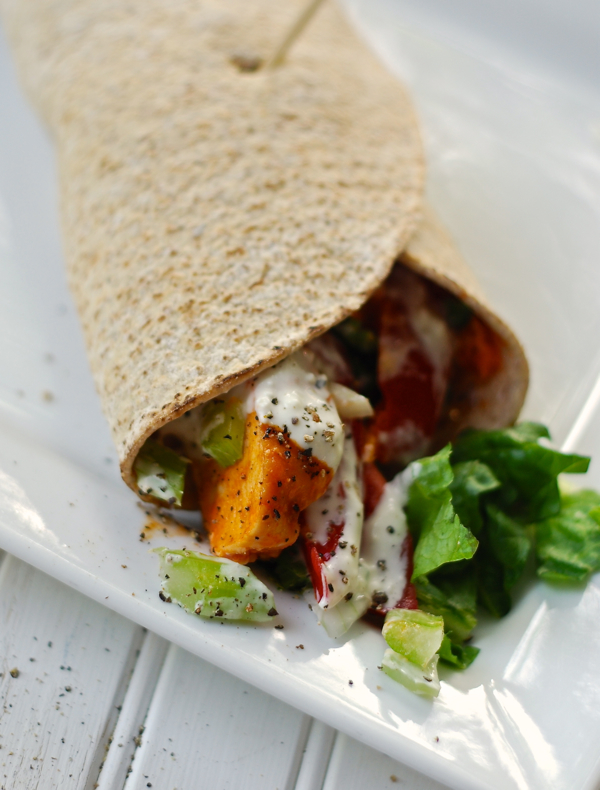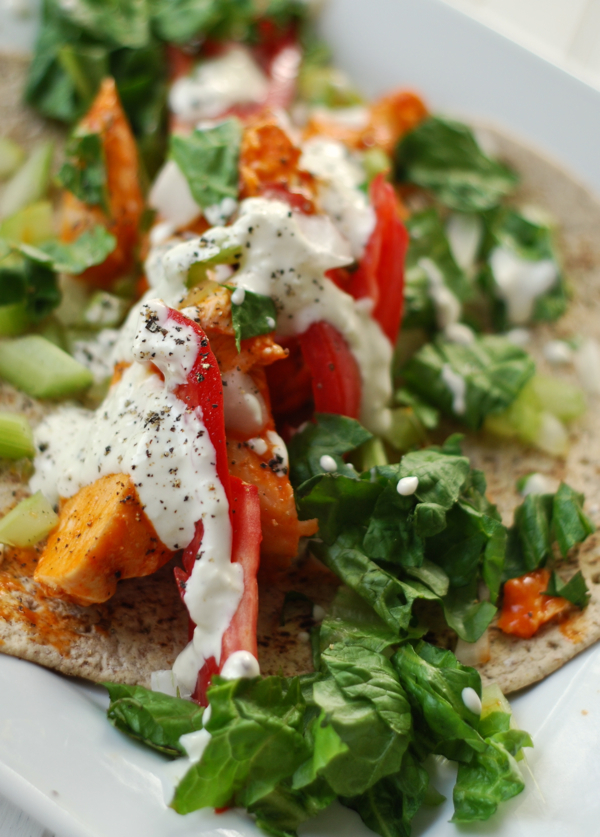 Awesome, fabulous, wonderful weekend. Can't say enough good things about it. It was pretty much all about celebrating my birthday for four days straight. The celebration continues today! My dear friend Tracy is coming down to Red Wing for a visit. We're headed out to the Pottery mall to do a little antiquing, having tea at Wisteria Twig, getting Chinese food for lunch, and maybe hiking Sorin's bluff if the rain holds off. I love hanging out with my friends, and I have been blessed with the coolest chickies ever to call my own!
Here's another lunch/dinner idea you can file away in your summer repertoire. Delicious, easy, tasty and chock full of healthy veggies. I looked for those super cool, green spinach sandwich wraps for this, but alas, couldn't locate any at our local market. I think the green wrap would have really popped next to the other colors we have going on here. Oh well…I settled for the "Flat Out" Multigrain, low carb wraps which were surprisingly good. They're very soft so they don't crack when you wrap them around the filling like plain old flour tortillas are wont to do.
makes one sandwich wrap:
your choice of sandwich wrapper or large tortilla
1/4 cup celery, chopped
1 small Roma tomato, chopped
1/2 cup Romaine lettuce, shredded
1 small boneless skinless chicken breast, grilled, shredded
2 teaspoons butter, melted (optional)
3 Tablespoons (or more), buffalo sauce (we LOVE Frank's hot sauce for this!)
homemade Creamy Blue Cheese dressing, to taste
salt and freshly ground pepper, to taste
Place wrap/tortilla on a plate. Mix the melted butter and buffalo sauce together in a bowl. Toss the shredded chicken in the sauce. Arrange all of the ingredients in an even layer on the sandwich wrap. Roll up tightly. Cut in half on the diagonal and secure each half with a bamboo skewer to keep the sandwich in place so it doesn't pop open before you serve it. Enjoy with your favorite chips (we love salt and vinegar kettle chips with this!)
Enjoy,
~Melissa
You may enjoy these related posts: