Print Friendly Version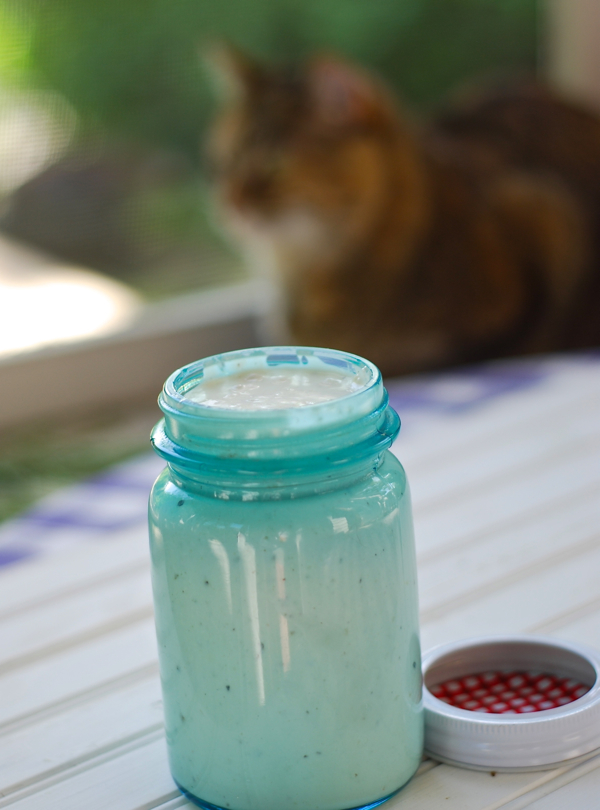 Hello, Lovelies! Thanks for all the emails! It was a busy, awesome weekend and I'm so sorry I didn't get a chance to post a "Six Senses" or "Scenes From My Week" post this week. I promise I will next weekend though. I've been cooking and photographing like mad, and getting so darn much done. Looking forward to some awesome photo gigs this summer, including a very special magazine shoot and a wedding. I'll be sure to keep you all posted.
Today I found a bunch of Real Gold Willow at one of my favorite antique stores (I'll share a photo of my "thrift store score" this weekend.) Can't wait to use it for a dinner party, and a photo shoot of something yummy (of course.)
I made another homemade salad dressing to top our Buffalo Chicken Wraps this past weekend (Recipe for those will be posted sometime this week.) But I thought I'd share the recipe for the dressing separately, and add it to the MASTER LIST of salad dressings! This turned out soooooo creamy and cheesy and chunky good. Can't wait to top my salad with this and some homemade Lowell Inn French Dressing tonight! What is your favorite salad dressing? Do you have any requests for me?
Makes approximately 2 cups of dressing:
1 cup crumbled blue cheese
1 cup real mayonnaise (no substitutes)
2/3 cup buttermilk
3 teaspoons fresh lemon juice
1 large clove garlic, minced
1 teaspoon onion powder
1 teaspoon sea salt
1 teaspoon freshly ground black pepper
Place all in blender and pulse until just mixed. Don't over mix or you won't have those wonderful blue cheese chunks in your dressing.
Enjoy!
XO,
~Melissa
You may enjoy these related posts: