Print Friendly Version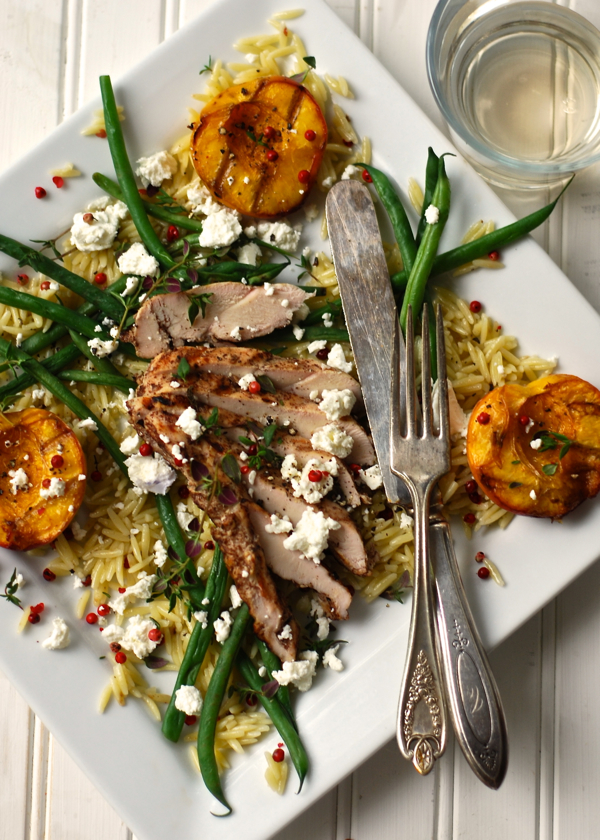 What a lovely Friday. The sun is shining and I'm done with my weekly cleaning. Through the open window in my studio I can hear the church bells from a few churches downtown, chiming . I'm looking forward to a relaxing weekend with friends and family… happy hour on the patio of one of our favorite pubs this evening… a little al fresco dinner party on our deck tomorrow… maybe a picnic and a bike ride… we'll see.
Here's what we had for "dinner on the deck" yesterday and I really like how it turned out. You'll need ripe, sweet peaches for this fresh, delectable dish.
for the chicken:
for 4 large servings ~
4 large boneless, skinless chicken breasts (fresh or completely thawed)
1 cup white wine (dry or sweet)
1/3 cup light oil (canola, olive, vegetable)
1/4 cup sugar
2 teaspoons cinnamon
1 teaspoon sea salt
1 teaspoon freshly ground black pepper
Place the chicken in a large ziploc along with the other marinade ingredients. Remove as much air as possible and seal the bag well.  Squish the marinade all over the chicken, set in a bowl and allow to marinate for 2 to 24 hours before grilling. Discard marinade. Grill until juices run clear and the chicken is completely done. Set aside.
for the peaches:
Cut 6 peaches in half and leave the skin on. Rub with olive oil and grill, flesh side down, until warm and tender and until grill marks appear.
to prepare the rest of the meal:
1/2 lb. cooked orzo
3 Tablespoons extra virgin olive oil (plus a little more for drizzling)
2 Tablespoons honey
steamed thin green beans (haricots verts)
8 oz. fresh chevre, crumbled
fresh thyme leaves
sea salt
pink peppercorns
Make 1/2 lb.  orzo according to package directions (this will yield about 2 and 1/2 cups of pasta.) Drain well, place in a bowl, and toss with 3 Tablespoons olive oil and 2 Tablespoons honey. Divide the orzo between 4 dinner plates. Top with some steamed green beans (I LOVE the kind you can steam in your microwave in 3 minutes! so convenient, and they always taste so fresh!) Slice the chicken breasts on the diagonal and fan them out. Place one breast in the center of each orzo/green bean bed. Sprinkle about 2 oz. fresh chevre over each plate and arrange 3 peach halves on each plate. Finally, sprinkle on a little fresh thyme, salt and a few pink peppercorns  (don't over-do it with the pink peppercorns or they'll overpower the whole dish.) Drizzle a little extra virgin olive oil over everything, and serve.
Enjoy and HAPPY WEEKEND!
XOXO,
~Melissa
You may enjoy these related posts: