Print Friendly Version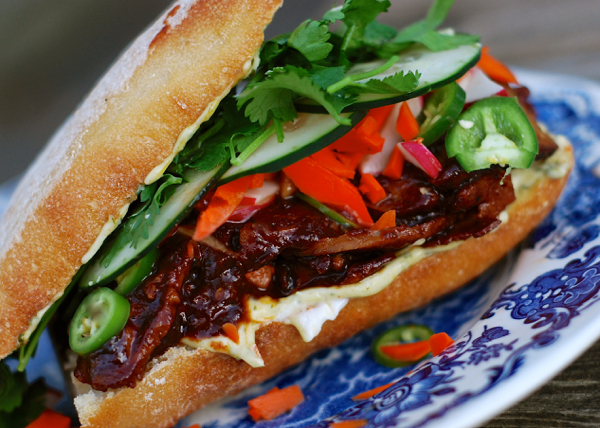 Before I went vegan I was a banh mi FANATIC. I made my own version of the traditional banh mi, and a crock pot banh mi. Also knows as the "Saigon Sub," the banh mi sandwich is one of those unforgettable, delicious, and oh-so-addictive flavor combinations. People who love them are passionate about them. I love mine piled with pickled carrots, radishes, spicy jalapeno peppers, and cilantro. I realize cilantro is a controversial subject. Either you love it or you hate it, right? I might be the only person on the planet who used to despise it and went on to become an enthusiastic fan. I would send back any dish that had even a whisper of cilantro.
I bet someone reading this is thinking, "Well, yeah, haven't you heard it's genetic? Some people are born with a gene that causes them to think cilantro tastes like soap." Have you read this?
Well, I call BS. And for one simple reason. I used to be one of those people that hated it, and now I LOVE it. I use literally cups of it in my salsa recipes. I make pesto out of it (called zhoug.) Certainly my genes didn't change, right? So what did, I wonder?
But I digress…
So to make a long story even longer, since going vegan I've developed a couple recipes for vegan Banh Mi. The first one I made featured tempeh. The tempeh banh mi is very, very good. It's easy to make and a great whole food version of the Saigon Sub. I highly recommend it.
Here's my new recipe featuring beefy seitan as the protein. Oh my goodness, is it ever tasty. It's closer to the original banh mi subs I used to make when I ate meat. Jeff and I ate them two days in a row, and even talking about it makes me want to whip up another round. Ready for this deliciousness, Banh Mi Fans? Don't be daunted by the long recipe that follows. I just wanted to walk you through it step by step. It's actually really easy.
First make a loaf of my Beefy Seitan and chill it in the refrigerator overnight.
Makes 4 servings
For the sauce:
1 Tablespoon dark sesame oil
1/2 cup reduced sodium soy sauce
3 Tablespoons brown sugar or coconut sugar
2 teaspoons sambal oelek or sriracha
1 Tablespoon tomato paste
1/4 cup seasoned rice vinegar or red wine vinegar
1 Tablespoon smoked paprika
1 teaspoon onion powder
2 large cloves garlic, minced
In a small saucepan over medium heat, whisk the sesame oil, soy sauce, brown sugar, sambal oelek, tomato paste, 2 Tablespoons of the vinegar, smoked paprika, onion powder, and garlic. Bring to a boil and then lower heat to a gentle simmer. Cook for 10 minutes. Remove from burner and set aside.
For the quick pickled carrots:
1 large carrot (or a couple medium ones) peeled and shredded or julienned
In a medium bowl, mix the carrots with the remaining 2 Tablespoons of vinegar
for the beefy saitan banh mi meat:
Very thinly slice 1/2 lb. of your prepared beefy seitan
3 to 4 Tablespoons vegan butter (I use organic Earth Balance)
Set a skillet over medium heat. Place butter in skillet. Once hot and melted, add 1/4 of the seitan slices so they just make one layer in the pan. Slowly cook and allow the slices to brown a little on the edges. Don't overcook your seitan. It's done when it's hot and slightly crispy, but still soft.
Repeat this with the rest of your sliced seitan. Use a couple skillets if you want to speed up this process.
Once all of the seitan is browned, add it all back to one skillet and pour the sauce over it. Cook just until heated through.
The rest of the ingredients:
Soft, fresh baguette, crusty French rolls, or ciabatta
1 cup sliced radishes
thinly sliced cucumber
1 cup cilantro, roughly chopped
vegan mayonnaise
1 large jalapeno pepper, thinly sliced (seeds removed if you don't like spicy)
vegan fish sauce (recipe below)
Place the bottom half of the bread you'll be using on a plate. Top with some vegan mayonnaise, 1/4 of the warm banh mi meat, some jalapeno, radishes, pickled carrot, cucumber, and cilantro. Put mayo on the top piece of bread and top your sandwich. Serve with vegan fish sauce for dipping or drizzling.
Easy vegan fish sauce:
2 cups water
1/4 cup low sodium soy sauce (or more, to taste)
1 Tablespoon miso paste
4 little sheets of the Ocean's Halo "sea salt" snack sheets, crumbled
2 garlic cloves, minced
1 teaspoon onion powder
splash of sherry
splash of seasoned rice vinegar
Place all in saucepan. Bring to boil. Remove from heat and allow to cool before placing in a jar with a tight fitting lid. Refrigerate to chill before serving.
Enjoy!
~Melissa
You may enjoy these related posts: