Print Friendly Version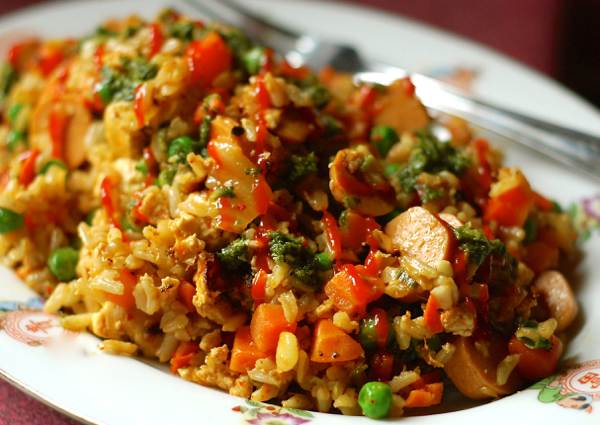 Fried rice is quickly becoming my go-to breakfast. It's right up there with my Ultimate Tofu Scramble Skillet, Vegan Benny, Vegan Bagel & Carrot Lox, and Vegan "Egg" Salad. They're all so very tasty and healthy. I'm big on protein in the morning and then having a lighter lunch. Sometimes I'm not even hungry for lunch because these breakfasts are so hearty! Those are the days I grab a smoothie or a banana for my mid-day meal.
This fried rice has double the protein because I use vegan franks (hot dogs) and tofu along with brown rice and peas. I love the zippyness that the spicy kimchi lends to this dish. Topped with zhoug and sriracha hot sauce! Ahhh! It's just SO good!
6 to 8 servings
1 block of extra firm tofu, pressed and patted dry
salt, pepper, and 1 Teaspoon turmeric (for the tofu)
4 Tablespoons olive oil or vegan butter, divided
3 large cloves garlic, minced
2 Tablespoons fresh, minced ginger
6 green onions, sliced (including the green tops)
6 vegan Frankfurters (Field Roast and Lightlife are my favorites)
1 cup spicy, vegan kimchi, chopped
1/2 teaspoon freshly ground black pepper
3 cups cooked white or brown basmati or jasmine rice
1 Tablespoon dark sesame oil
2 Tablespoons lite soy sauce or tamari
2 cups frozen peas and carrots (thawed)
zhoug (for serving)
hot sauce (for serving)
In a large non-stick skillet, place 2 Tablespoons of the olive oil or vegan butter. Once hot, crumble the prepared tofu into the oil. Press it down gently with the back of a spatula and cook over medium heat for 5 to 7 minutes, or until browned. Stir, press down, and repeat this process. Salt and pepper the tofu and add the turmeric. Once golden brown, remove from heat and set aside.
In wok or large, deep skillet over high heat: Heat remaining 2 Tablespoons of the olive oil or vegan butter. Add the ginger, and green onions. Saute for 2 minutes. Then add the frankfurters, garlic, kimchi and pepper. Allow this mixture to cook, stirring every 15 seconds or so, for 3 minutes. Add the cooked rice, sesame oil, soy sauce, and stir to combine. Cook, stirring occasionally, for 2 to 5 minutes or until the rice gets a little crispy in spots.
Add the peas and carrots. Cook until everything is heated through, stirring occasionally. Add the tofu. Stir to combine.
Plate and top with a drizzle of zhoug and hot sauce. (And even a little ketchup, if that floats your boat.)
PS… here's my recipe for classic vegan fried rice if you're not a fan of frankfurters and/or kimchi.
Enjoy!
~ Melissa
You may enjoy these related posts: