Print Friendly Version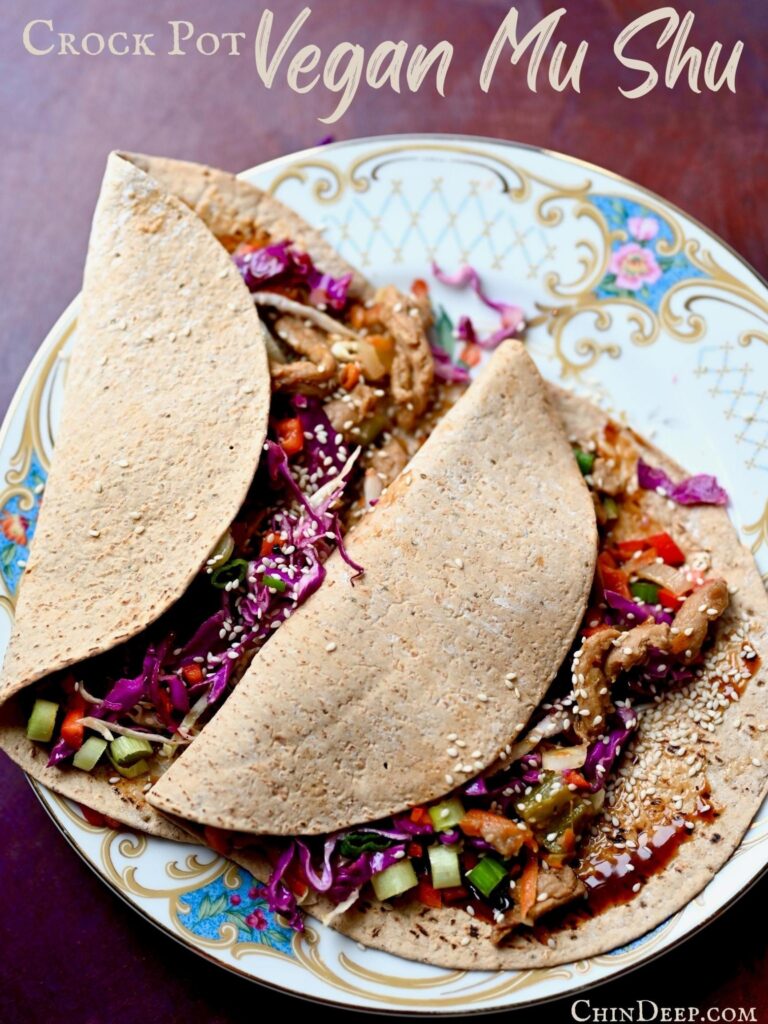 Hello Friends!
Have you tried soy curls in the Crock Pot yet? They're so good and so easy! You can use them anywhere you used to use chicken. So versatile, lean, and packed with protein.
I had a craving for mu shu and decided to whip some up in the slow cooker. This recipe for mu shu exceeded my expectations. I hope you love it as much as I do.
This will make an entire Crock Pot full of mu shu. Like enough for you to eat it every night for a week. So if you don't have a big family to cook for, feel free to cut the recipe in half and make it in a smaller, 5 quart cooker. I used a 7 quart cooker because we were feeding guests and I wanted a bunch of leftovers for my lunches.
Place the following ingredients in the crock of a 7 quart slow cooker:
8 oz. package dry soy curls
1 large onion, quartered and sliced
2 large, green bell peppers, seeds and stems removed, cut into bite size pieces
6 cloves garlic, minced
3 large carrots, shredded
8 oz. mushrooms, sliced (I used baby bella)
1/3 c. peanut butter
3 Tablespoons quick cooking tapioca
2 Tablespoons fresh ginger, grated fine
4 cups veggie stock or broth
3 Tablespoons brown sugar or coconut sugar
2 Tablespoons red wine vinegar or rice vinegar
1 Tablespoon sesame oil
1 Tablespoon sriracha hot sauce (or to taste)
2 Tablespoons soy sauce
2 teaspoons Chinese 5 spice
1 teaspoon onion powder
freshly ground black pepper, to taste
Stir all together in crock pot. Cover and cook on low for 6 hours Serve on mu shu pancakes or flour tortillas.
To serve: brush each tortilla with hoisin sauce, fill with the mu shu filling, and top with red cabbage slaw, plum sauce or peanut sauce (optional), a drizzle of sesame oil, chopped up sweet red bell pepper, sliced green onion, and sesame seeds.
Enjoy!
~Melissa
You may enjoy these related posts: