Print Friendly Version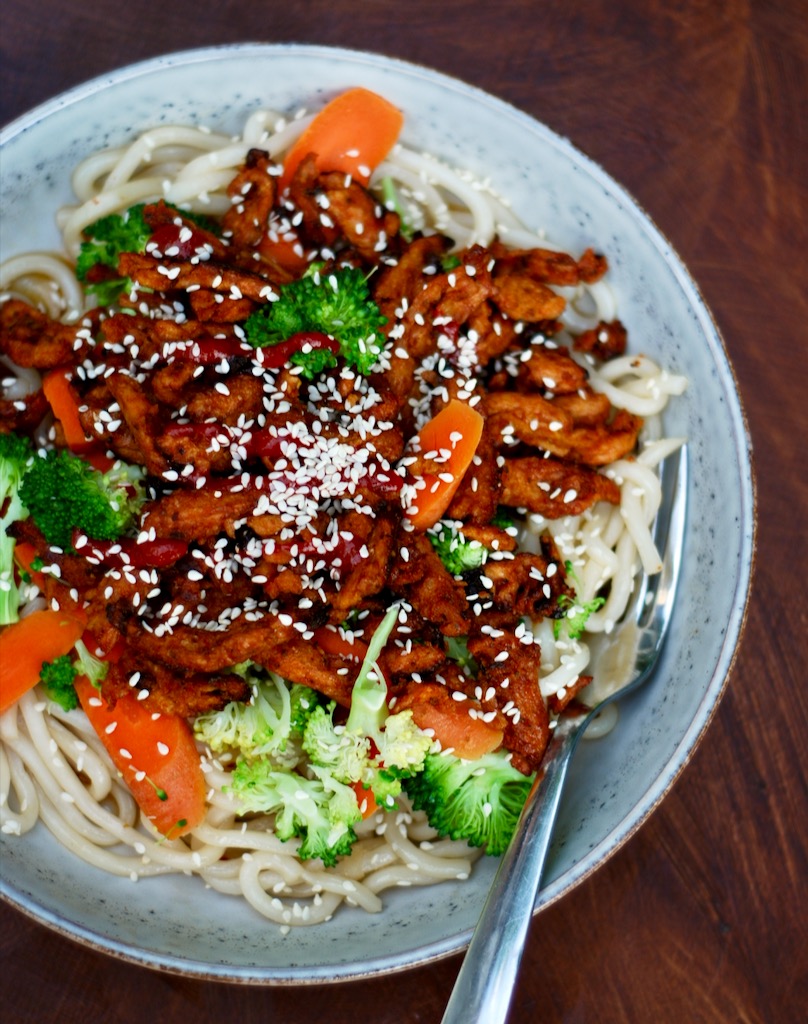 This is one of my easy, go-to dinner recipes when we're craving something hearty, comforting, and healthy.
Now, the chicken in this recipe isn't really chicken, it's soy curls. What in the heck are soy curls? I wondered the same thing before trying them. After reading about them and looking around online for easy recipes, I was surprised to find out that they are a one ingredient, minimally processed soy product like tofu. Soy curls are essentially soy beans. They're very easy to prepare, delicious, and have the same chewy texture that chicken has.
I have plans for lots of different soy curl recipes. How about… fajitas, "chicken" salad, "chicken" and dumplings, enchiladas, or spicy peanut "chicken" pizza? The possibilities are endless. Use them wherever you'd normally use chicken and make your meals healthy, and cruelty free.
Soy curls can sometimes be purchased at large grocery stores, but I just order them by the case from Amazon.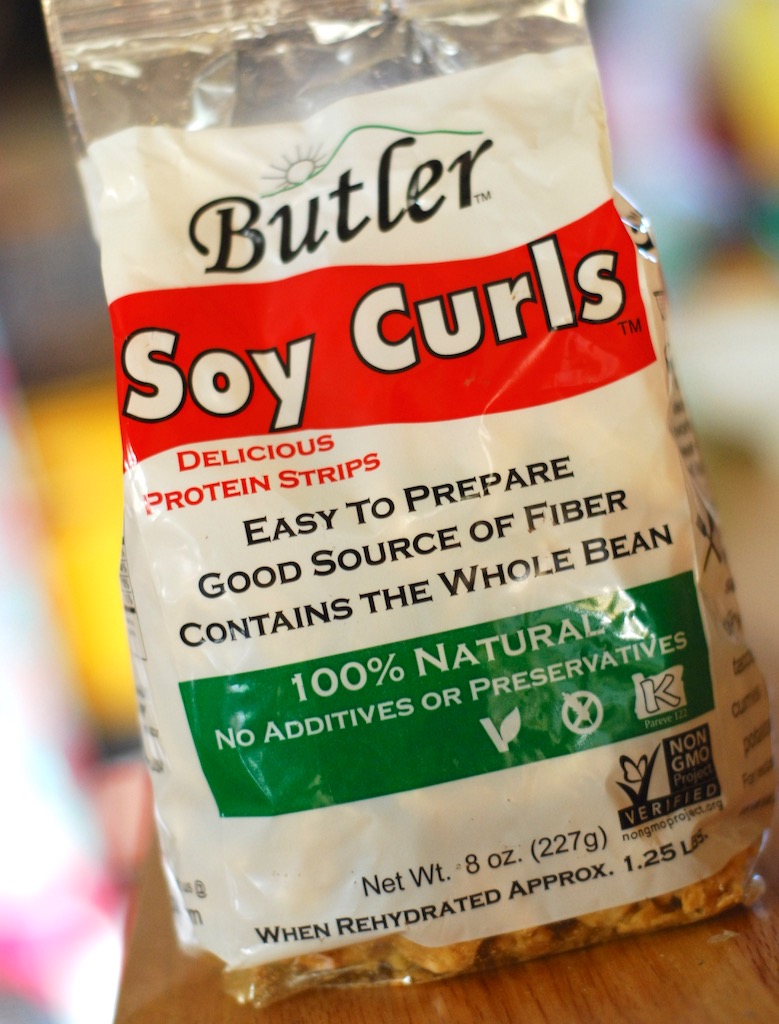 To get started you'll want to rehydrate your 8 oz. of soy curls by opening the bag, pouring them into a bowl, and covering them with water for 10 minutes. Drain well, pat dry, and set aside.
For the marinade:
3 Tablespoons miso paste
2 Tablespoons pure maple syrup
1 Tablespoon smoked paprika
1/2 teaspoon liquid smoke
1 Tablespoon onion powder
2 teaspoons garlic powder
Mix the marinade paste ingredients together until well combined. Place the prepared soy curls in a large Ziploc bag along with the marinade. Gently work marinade paste into the soy curls so they are completely and evenly coated. Allow to rest in refrigerator for at least an hour before moving on to the next step.
Preheat oven to 350 degrees F.
Once the soy curls have marinated, transfer them to a baking sheet that has been lined with a Silpat mat or cooking parchment. You may need two baking sheets so the soy curls aren't crowded when they bake. If they're crowded, they won't brown as well.
Place in preheated oven and bake for 15 minutes, flipping half way through cooking time.
Once browned, remove from oven, place in a large mixing bowl, and toss with your favorite BBQ sauce and/or teriyaki sauce.
Serve with prepared Udon noodles or rice and steamed veggies (this time I used carrots and broccoli and sprinkled sesame seeds over everything). They're also great in a sandwich with sweet slaw, as a wrap, as a topping for mac & cheese, as a topping for salad, or just plain as a snack.
Enjoy!
~Melissa
You may enjoy these related posts: