Print Friendly Version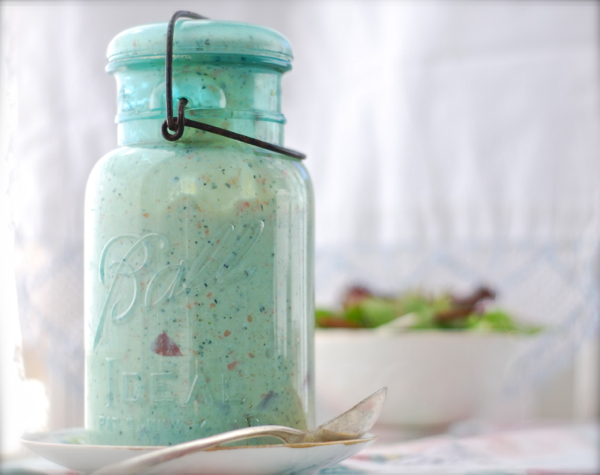 Today started with breakfast at the local cafe with a friend. It always feels so good to reconnect. We stopped at the local market,  sipped green tea, milk oolong and rooibos and talked.
I'm looking forward to a relaxing night with Gracie and Jeff. We're lighting a fire in the fireplace, listening to the rain fall outside, and cooking dinner together.
Here's a recipe I created a couple days ago in an attempt to make a delicious, healthy and creamy dressing. This is absolutely wonderful when it's fresh, so I would suggest only making what you are going to eat the same day. It's loaded with fresh veggies and doesn't keep as long as the higher fat dressings would. Definitely use it within three days. This would be perfect for a ladies' lunch or tea party in the garden or on the patio. Thus, the name…
1 and 1/4 cup whole milk cottage cheese
1/3 cup Parmesan cheese
1/3 cup whole milk
2 Tablespoons olive oil
2 Tablespoons white balsamic (or regular white) vinegar
1 large garlic clove, minced
1/2 of a red bell pepper, coarse chopped
1/4 cup chopped onion
1/4 cup coarse chopped carrot
1 stick celery, coarse chopped
2 Tablespoons dry basil (or 4 Tablespoons fresh)
1 teaspoon Mediterranean seasoned salt (I used Lawry's)
2 teaspoons freshly ground black pepper
a dash of hot sauce or cayenne pepper
Place all ingredients in the bowl of a blender and pulse until chunky-smooth. Transfer to a canning jar with a tight fitting lid and use quickly. This also makes a wonderful, low-fat dip for chips, crostini and crudite!
Enjoy!
~Melissa
You may enjoy these related posts: