Print Friendly Version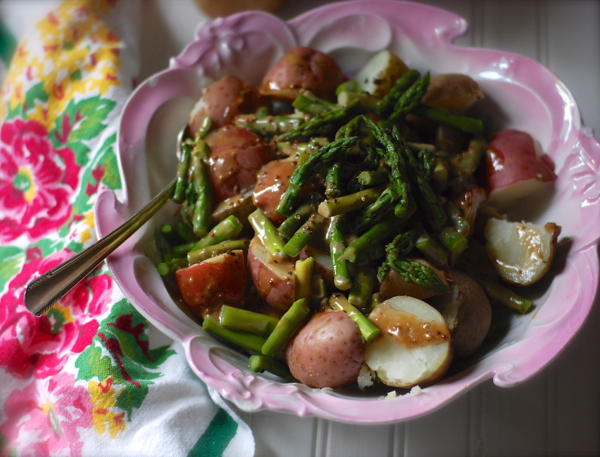 I just returned home from a girlfriend's lunch and movie date with my friend Nancy. We ate BBQ pulled turkey sandwiches and crudite, sipped tea, nibbled Biscoff cookies and watched THIS MOVIE (very good albeit intense and a bit sad…I loved seeing all of the pretty Hawaii scenes and George Clooney's performance was stellar.). It was nice to escape for a few hours and get out of the house, but now I'm back and my thoughts are on preparing supper.
I made this delicious and very easy potato salad a few nights ago and it was wonderful. So different from the traditional potato salads I've had. The perfect accompaniment to grilled fare.
for the salad:
2 lb. new potatoes, or smallish potatoes, halved
4 to 8 oz. thin asparagus, steamed and chilled
Place potatoes in a large cooking pot with a heavy bottom, or a Dutch oven. Cover with water. Bring to boil over high heat. Reduce heat and simmer for about 15 minutes or until cooked through and soft but still firm. Cooking time may vary depending on the size of the potatoes your using.
Drain potatoes and set aside to cool.
for the dressing:
2 Tablespoons extra virgin olive oil
2 Tablespoons real mayonnaise
1 heaping Tablaspoon grainy brown mustard
1 Tablespoon honey
sea salt (to taste)
freshly ground pepper (to taste)
Gently toss the cooled asparagus and potatoes together. Pour the dressing over and gently toss again. Adjust seasonings. Serve.
Enjoy!
~Melissa
You may enjoy these related posts: