Print Friendly Version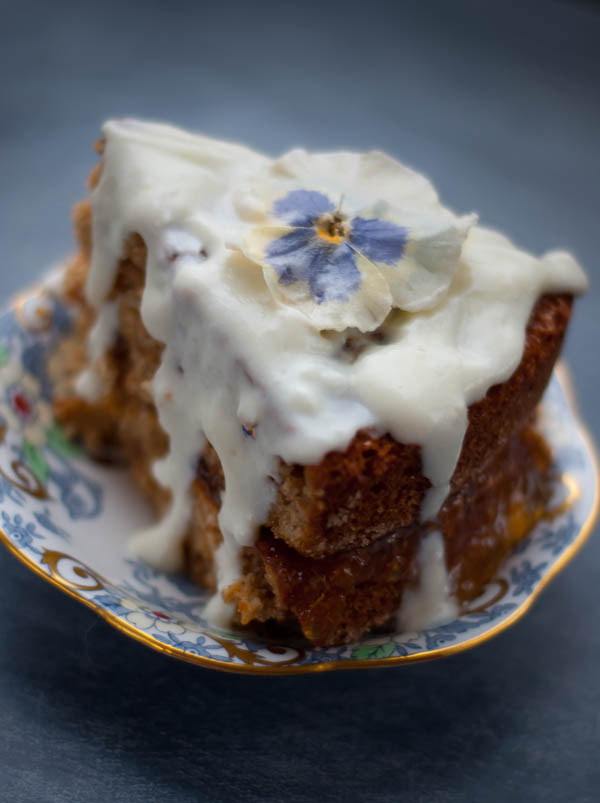 Finally, the sun is shining! We actually have the screen doors open and we're letting fresh air flow through the house. (And, miraculously, there aren't any icicles forming in the bay windows or on the furniture!)
I got to see my daughter Andrea today. We sipped Earl Blue tea and talked, had a little lunch. Otherwise I've been busy with my book stuff. Totally in "the zone," chipping away at the photos one day at a time…chip, chip, chip….soon, there will be a whole book! One thing I know to be true is that when a book is being created the joy really is in the journey. The destination is nice too, but my favorite part is the inspired, creative part. I don't really like the TV, radio, book signing part. I like to be in the cave.
Here's a little treat that's both healthy and decadent. So yummy and moist. Spicy, sweet and elegant. You could easily have this for a healthy breakfast-coffee cake, as part of a lunch box treat or tea party grand finale. This is a hearty twist on the classic Victorian sponge.
for the cake:
1/2 cup light brown sugar
1/2 cup sugar
1 stick (1/2 cup …or 1/4 lb.) unsalted butter, melted
2 large eggs
2/3 cup greek yogurt
1 teaspoon pure almond extract
1 cup unbleached all-purpose flour
1 cup whole wheat flour
1 teaspoon baking soda
1 teaspoon baking powder
1 teaspoon salt
1 teaspoon ginger
1 teaspoon cinnamon
1 teaspoon allspice
1/4 teaspoon nutmeg
1 and 1/2 cups rolled oats
1/2 cup milk
1/2 cup to 3/4 cup jam
Preheat oven to 350 degrees F. Lightly grease 2 round cake pans (8 or 9 inch.) Beat sugars and butter together in a large bowl.  Add eggs, one at a time, beating thoroughly after each. Beat in yogurt and almond extract until well blended.
Combine flours, baking soda, baking powder, salt and spices in a separate bowl. Add half of this mixture, along with the oats, to the wet mixture. Stir until just combined. Add the milk and the rest of the flour mixture. Stir until just combined.
Spread the batter evenly between the two round cake pans. Bake for about 30 minutes or until a toothpick/skewer, inserted in the center of the cake, comes out clean. Cool for 10 minutes. Remove from pans and cool completely on cooling racks.
Transfer one of the layers, top side down, onto a pretty cake plate. Spread your favorite jam on top of this bottom layer (this time I used peach preserves.) Place the second layer of the cake, top side down, over the jam layer.
for the frosting/topping:
8 oz. cream cheese, light cream cheese or plain greek yogurt
1 teaspoon almond extract
1/4 cup honey
If using cream cheese, make sure it's  well softened. Place all ingredients in a mixing bowl. Using an electric mixer, mix until smooth.
Cut cake into individual pieces and top as you serve them. You could frost the whole cake (if using cream cheese,) but if you're using yogurt, top cake as it's served or the cake could become soggy.
Garnish with fresh or crystallized flowers!
Enjoy!
~Melissa
You may enjoy these related posts: