Print Friendly Version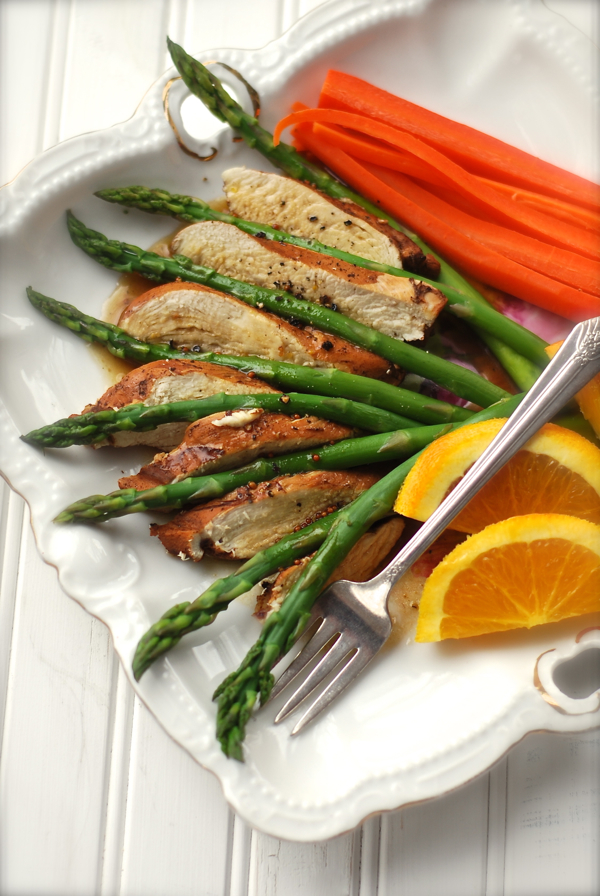 I've been catching up with my household cleaning and organizing today. Just sort of taking my time, going from room to room. I need to go through my craft and linen hutches so I can open the cabinet doors without having stuff fall out on my head.
I ordered some new tea and a couple books I've had my eye on. Talked to my friend Nancy and made a movie/lunch date with her. Looked through paint samples so we can finally decide on a color for our living and dining rooms. Did a little window shopping online to look for the perfect sofa and club chairs. Started a new embroidery project. Made a new potato salad recipe to go with our grilled steaks tonight. Took photos of the potato salad… and now, I'm writing to all of you.
I made this yummy chicken for date day last week. It's a recipe that's been loosely adapted from one I found in Mary Ellen Evans cookbook, Bistro Chicken. (You can read more about this lovely little cookbook HERE.)
I've been intrigued by cooking with tea for quite some time. I've added chai tea leaves to my pumpkin waffles,  English Breakfast to my Irish Barm Brack (bread), iced Keemun to my cocktails, and Earl Grey to my hot chocolate. This was my first attempt at making "smoked" chicken using Earl Grey and Lapsang Souchong. The result was awesome. This would be a wonderful and easy company dinner!
My friend Brenden, from Whispering Pines Tea Company, sent me the Lapsang Souchong tea that I used in this recipe… It's called "Ashes of Autumn," and I absolutely love it!
~serves 4 to 6~
for the chicken:
2 heaping Tablespoons Lapsang Souchong tea
2 heaping Tablespoons Earl Grey tea
1/2 teaspoon lavender blossoms
4 to 6 large boneless skinless chicken breasts
1 pound asparagus spears
4 large carrots cut into long, thin spears
*
Bring 6 cups of water to a boil in a Dutch oven or heavy bottomed soup pot. Remove from heat; add the teas. Allow to steep for 5 minutes. Strain and return the liquid to the soup pot. Bring to a simmer over medium-low heat. Add chicken to tea mixture. Poach until chicken is no longer pink and juices run clear when cut with a knife (about 15 minutes.) Remove the chicken from the poaching liquid and let cool. Reserve 2 Tablespoons of the poaching liquid.
Steam asparagus and carrot spears in a steamer basket over boiling water until bright green and tender-crisp. Remove from heat and allow to cool.
for the vinaigrette:
Whisk together…
3 Tablespoons honey
3 Tablespoons fresh orange or tangerine juice
3 Tablespoons fresh lemon juice
2 Tablespoons low sodium soy sauce
1 Tablespoon Dijon or grainy brown mustard
1 teaspoon freshly ground black pepper
6 Tablespoons extra virgin olive oil
the 2 Tablespoons reserved poaching liquid
to assemble:
Slice chicken breasts on the diagonal. Place each breast in a fan shape on plate. Arrange asparagus spears in between chicken slices. Set some carrot spears off to the side. Garnish plate with orange or tangerine slices. Drizzle vinaigrette over the chicken and vegetables. Serve. (you will probably have some vinaigrette left over…it's also wonderful on spring greens for a simple side salad.)
Enjoy!
~Melissa
You may enjoy these related posts: