Print Friendly Version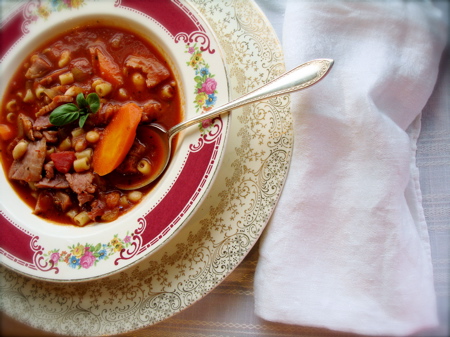 "When the stars make you drool, just like pasta fazool, that's amore.
When you dance down the street, with a cloud at your feet, you're in love.
When you walk in a dream, but you know you're not dreaming signore…
Scuzza me, but you see…back in old Napoli, that's AMORE…"
~Harry Warren
Okay, okay…about a dozen people have emailed me today asking for a way to use up that Easter ham that is now residing in their freezer! I think I have the perfect recipe for you. It's a creation of mine, and one of my favorites. I don't usually blog twice in one day, but clearly this is an emergency! 🙂
3 Tablespoons extra virgin olive oil
2-4 large carrots, peeled and chopped into 'coins'
1 medium onion, chopped fine
2 large cloves garlic, minced
26 oz jar, good quality marinara (I like 'Newman's Own')
28 oz. low sodium chicken broth
1 (15 oz can) Cannellini beans, rinsed and drained well
1 teaspoon red pepper flakes or 2 tsp. Sriracha sauce
1/2 cup dry red wine
1 lb. chopped ham
2 cups cooked Ditalini pasta
salt and pepper to taste
fresh basil, chopped (for garnish)
Warm olive oil in a large soup pot. Add carrots, onion, garlic and saute just until soft (about 2 minutes.) Add marinara, broth, beans, red pepper flakes, ham and wine. Simmer until heated through (about 10 minutes,) stirring frequently. Add the 2 cups cooked pasta at the very end. Salt and pepper to taste. Grate some fresh Parmigiano Reggiano over the top if you wish. Serve with good quality Italian bread or baguette.
Buon Appetito!
~Melissa
You may enjoy these related posts: