Print Friendly Version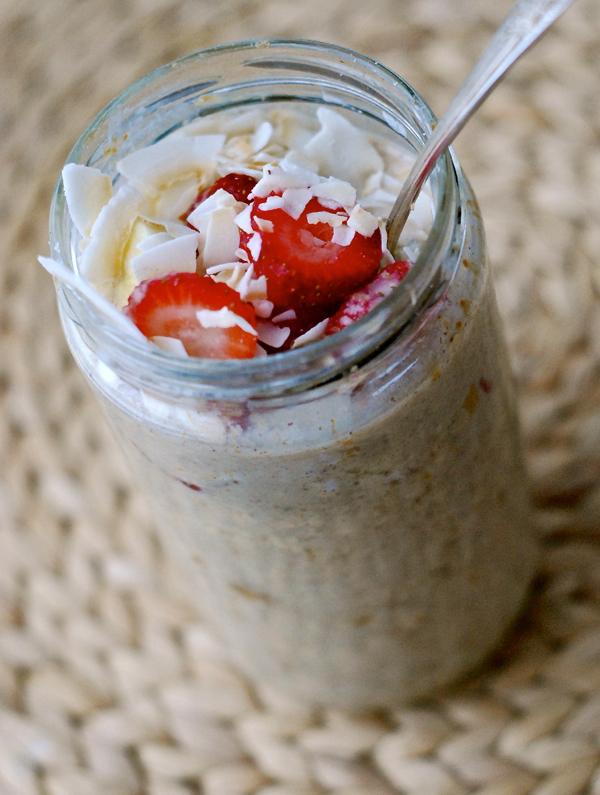 I've decided that as a new tradition for my annual "Week of Valentine Treats" I'm going to include a heart healthy recipe. Last year it was my Heart Beet Salad, and this year I made one of my favorite versions of overnight oats. This recipe is incredibly versatile. Use your favorite berries (or other fruits such as apples, pears, pineapple, peaches) and pure flavor extracts to create a different variety of overnight oats every time!
This makes a big serving! I sometimes eat half of it for breakfast and save the other half for an afternoon snack.
In a large, wide mouth canning jar, combine:
1/3 cup old fashioned, rolled oats (not quick cooking, instant or steel cut)
1/3 cup almond milk (or your favorite nut or dairy milk)
1/3 cup plain greek yogurt or vanilla greek yogurt (or your favorite flavor)
***2 Tablespoons coconut sugar, raw honey or pure maple syrup
2 heaping Tablespoons organic smooth or crunchy peanut butter (or your favorite nut butter)
1 teaspoon cinnamon
1 teaspoon pure coconut extract (or vanilla)
1 whole, ripe banana, sliced
1/4 cup fresh strawberries, sliced and green tops removed (or other favorite berries)
2 Tablespoons toasted coconut (optional)
1 to 2 Tablespoons chia seeds (optional)
Mix everything up so all of the ingredients are evenly combined. Cover jar tightly with lid and refrigerate overnight. The next morning, enjoy for breakfast!
Note***You can adjust the sweetener to taste, or omit it all together if using a pre-sweetened greek yogurt.
XO,
~Melissa
You may enjoy these related posts: