Print Friendly Version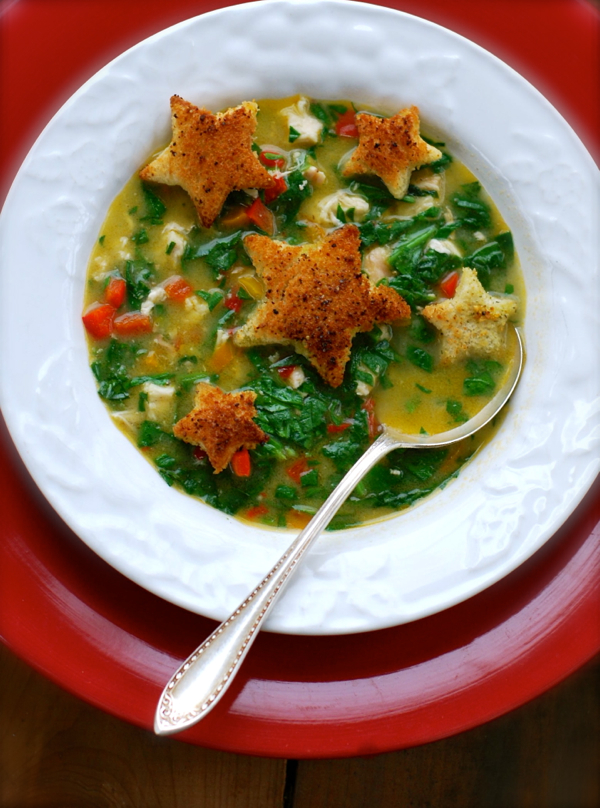 "The Sisters love to serve this soup at Christmas time. It is beautiful in the bowl, and the star croutons remind us of the real meaning of Christmas." ~Bonnie Tracy, author of Tasty Recipes from the Sister's Kitchen
The Christmas commotion continues! 😉 I took a few pics of this yummy soup to share with you just in case you're still looking for something cozy and easy to cook for your holiday celebration.
I first had this soup at a tearoom where I was employed for close to 10 years. The darling proprietress, and my dear friend, Bonnie would make this when the Christmas rolled around. We hosted several holiday events, Christmas teas and Nutcracker teas among them, and everyone always oohed and ahhed over this gorgeous, colorful soup!
Tonight we're enjoying bowls of this for our Christmas Eve soup supper. I hope you and your family love this as much as we do. My recipe is slightly different than the original. I use extra virgin olive oil in addition to the butter and more bell pepper, in multiple colors, instead of just red.
for the soup:
1 cup chopped bell pepper (I use red, orange and yellow)
1/4 cup butter
2 Tablespoons extra virgin olive oil
1/2 cup all purpose flour
6 cups homemade chicken or turkey stock (or pre-made broth)
1 (10 oz.) bag fresh spinach, chopped
2 cups cooked chicken, chopped
1/4 teaspoon ground nutmeg
top with star shaped croutons (recipe below)
In a large, heavy bottomed stock pot, heat the butter and olive oil. Once hot, add the chopped bell pepper and flour. Reduce heat to low and stir constantly for 2 to 3 minutes. Mixture will be very thick, stick to the pan a bit, and turn slightly amber in color. Once this happens, add your soup stock. Stir and scrape the bottom of the pot thoroughly. Stir constantly and cook until soup is thickened and bubbly. Add the spinach, chicken and nutmeg. Salt and pepper to taste. Heat through (don't boil.) Ladle into bowls and top with star croutons.
for the star croutons:
Using a 1 inch, star shaped, cookie cutter (and other sizes, if you wish) cut stars from sliced bread. Brush with melted butter and/or olive oil. Toss with a little onion and garlic powder. Toast in a 350 degree F. oven for 6 to 8 minutes, turning once. Croutons are done when golden and no longer soft.
Enjoy!
~Melissa
You may enjoy these related posts: