Print Friendly Version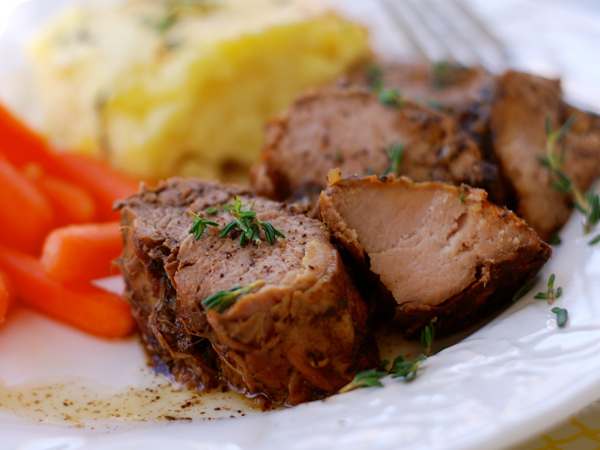 This Easter, while the ham was baking in the oven, this was cooking in the Crock Pot. It was so easy to prepare, and incredibly moist and delicious. Perfect holiday fare, without the fuss!
yield: count on 1/3 lb. to 1/2 lb. per person-
2 to 4 lb. pork tenderloin
1/2 cup water
2/3 cup dry red wine or balsamic vinegar
2 Tablespoons soy sauce
2 Tablespoons Dijon mustard
2 Tablespoons olive oil
1/4 cup brown sugar
3 Tablespoons minced, dry onion
2 Tablespoons fresh Thyme leaves
1 Tablespoon dry parsley
1 teaspoon regular or smoked paprika
1/2 teaspoon garlic powder OR 1 large clove fresh garlic, minced
Place fresh or completely thawed pork tenderloin in the crock of a 7 to 8 quart slow cooker.
In a medium mixing bowl, combine: water, wine/balsamic, soy sauce, Dijon mustard, olive oil, brown sugar, dry onion, thyme, parsley, paprika and garlic. Pour sauce over meat and turn the tenderloin to coat.
Cover slow cooker and turn on LOW heat for 4 to 6 hours or until pork is very tender.
note: If you'd like to thicken the sauce, remove it from the slow cooker once the pork is done. Pour sauce into a medium saucepan and place it on burner of stove. Bring to boil. Add a mixture of 2 Tablespoons cold water and 2 Tablespoons cornstarch. Whisk constantly, and return to boil. Lower heat and stir until thickened.
Enjoy!
~Melissa
You may enjoy these related posts: