Print Friendly Version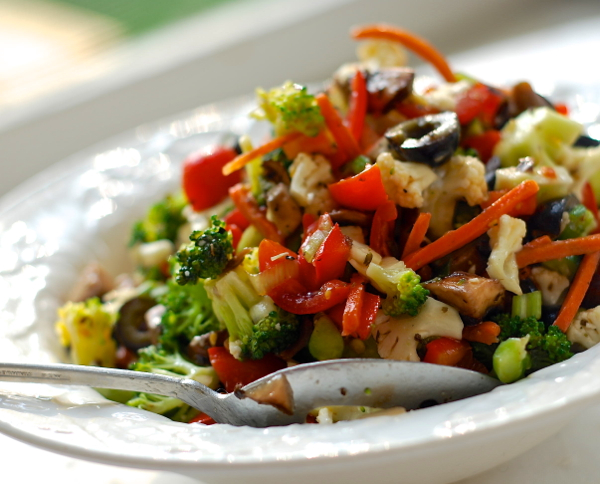 As summer winds down I'm trying to share as many of my favorite fresh salad recipes as possible.  I love to make this for potlucks and then put any leftovers (if there are any) in the fridge. It keeps in the refrigerator for a week if it's covered tightly, and it's an awesome addition to brown bag lunch. We like to layer ours with cold cooked pasta and cold grilled chicken in canning jars! A complete, filling, healthy lunch! YUM!
for the dressing/marinade:
1/2 cup sugar OR raw honey
1 cup raw apple cider vinegar
1 cup light olive oil
1 teaspoon sea salt
1 to 2 Teaspoons freshly ground black pepper
1 Tablespoon prepared yellow mustard
2 teaspoons dry Italian seasoning
2 teaspoons garlic powder
Mix all dressing ingredients in a medium mixing bowl and whisk well to combine. Adjust ingredients to suit your taste. Set aside.
for the salad:
In a big food container with a tight fitting lid, combine:
1 head cauliflower separated into small florets
1 large head broccoli separated into small florets
1 cup julienned carrots
2 cups diced celery
6 green onions, chopped
1/2 green bell pepper, chopped
1/2 red bell pepper, chopped
8 oz. fresh baby bella mushrooms, washed well and sliced
1 can black olives, drained and sliced
1 pint grape or cherry tomatoes, quartered
Mix well. Add dressing. Toss well to coat all veggies. Cover tightly and refrigerate 2 to 24 hours. Stir well before serving.
Enjoy!
~Melissa
You may enjoy these related posts: