Print Friendly Version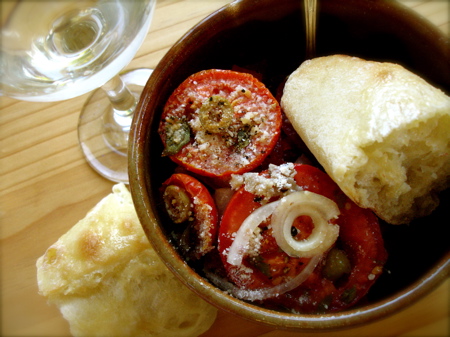 ~baked italian salad~
This is a wonderful salad to serve when you have an abundance of tomatoes in your garden. It's best served well-chilled, with Italian boule or French baguette and a glass of crisp, white wine.
Oil a deep, 10 inch, glass pie plate with 1 Tablespoon extra virgin olive oil. Slice 8-10 ripe Roma (plum) tomatoes. Place one layer of the tomatoes on the bottom of the pie plate. sprinkle a little coarse sea salt, fresh ground black pepper, fresh chopped parsley and fresh chopped oregano over the tomatoes…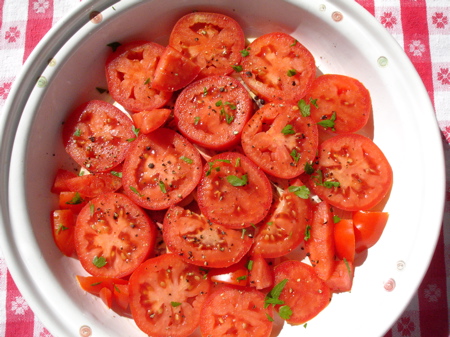 Next, place a layer of thinly sliced onion, one large minced garlic clove, and a sprinkle of red pepper flakes over the tomato layer…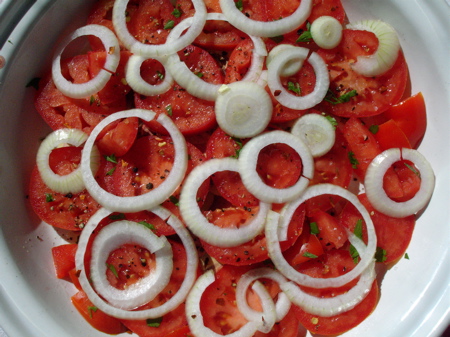 Repeat the tomato, spice, onion and garlic layers, ending with a tomato layer.
Next, sprinkle fresh, torn basil leaves, green olive slices, 2 Tablespoons dry red wine, and 1 Tablespoon extra virgin olive oil over everything.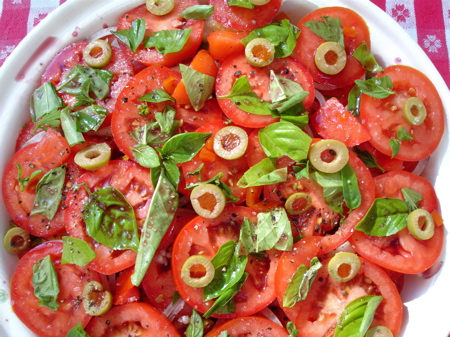 Last, sprinkle a little Parmesan or Asiago, and dry Italian bread crumbs over the top. Bake at 475 degrees F. for 25 minutes.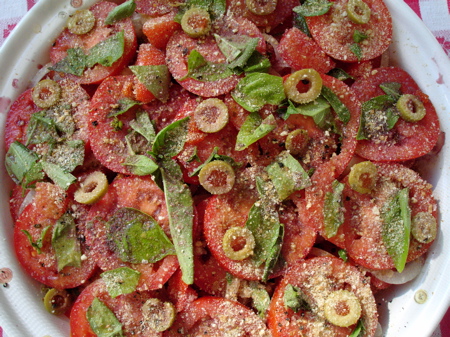 Chill well and serve.
Enjoy!
~Melissa
You may enjoy these related posts: