Print Friendly Version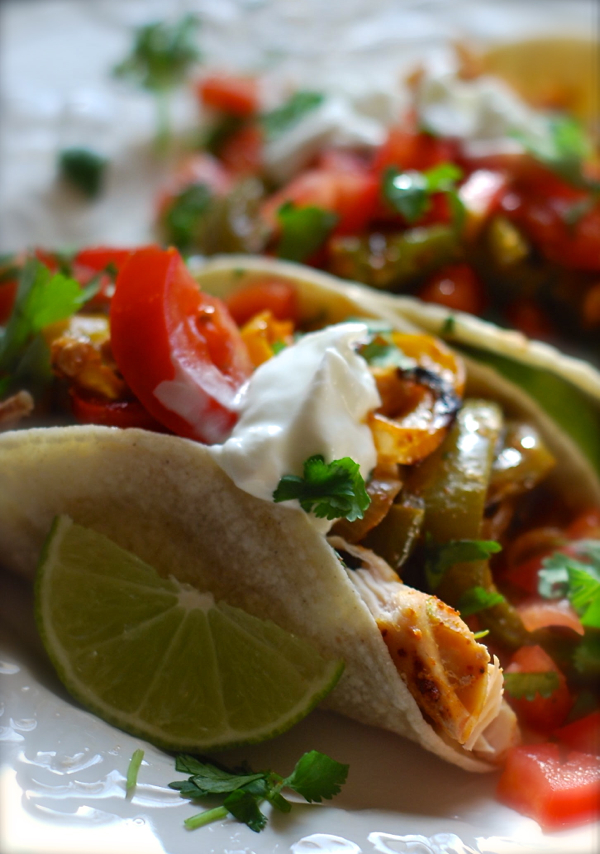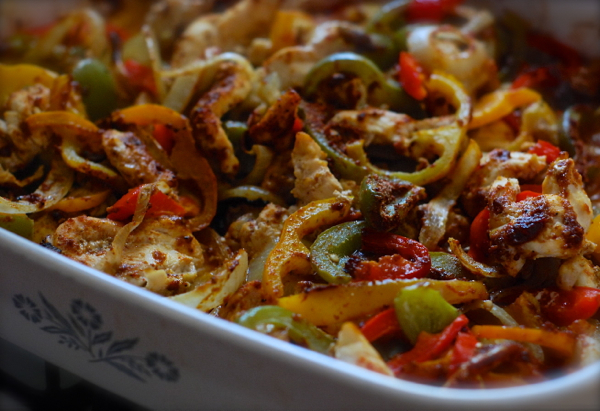 This was such a fun, delicious and easy meal to make for our Valentine celebration this year. We were all decked out in our comfiest jammies under quilts in the living room while watching movies on demand and munching baked fajitas! Thank you, Cozycakes Cottage, for the inspiration. These exceeded my expectations! I was a little afraid that the moisture from the meat and veggies would create a pool of water in the pan, but that wasn't the case at all. Instead, the juices combine with the spices, cornstarch and olive oil to create a delicious sauce. This is a recipe I'll make again and again.
The original recipe calls for mushrooms, but I left them out because my daughter Andrea doesn't care for them. If you like mushrooms, feel free to add 1 cup of sliced mushrooms to this when you add the vegetables. I tweaked the ingredients a bit because I wanted to double the recipe for a bigger crowd, and I wanted leftovers. Also, I upped the spice and garlic content. Hope you love this as much as we do!
~ preheat oven to 400 degrees F. ~
for the spice medley:
2 teaspoons chipotle powder
2 teaspoons smoked paprika
1/2 teaspoon cayenne pepper
2 teaspoons onion powder
1 teaspoon garlic powder
2 teaspoons cumin
1/2 teaspoon sea salt
1 Tablespoon cornstarch
1/2 teaspoon freshly ground black pepper
1/4 teaspoon cinnamon
Mix well to combine and set aside.
for the veggie/meat mix:
2 large onions, sliced
1 and 1/2 green bell peppers, seeded and sliced
1 red bell pepper, seeded and sliced
1/2 orange bell pepper, seeded and sliced
1/2 yellow bell pepper, seeded and sliced
4 large cloves of garlic, minced
3 to 4 lb. boneless skinless chicken breasts, sliced in thin strips
6 Tablespoons extra virgin olive oil
Blot chicken strips with paper towels to remove excess moisture.
Combine all veggies and meat in a big mixing bowl. Toss well so everything is coated with the oil. Divide between two, 9 x 13, glass baking pans. Sprinkle half of the seasoning mixture evenly over one of the pans and then repeat with the other pan. Place both pans, uncovered, in the oven and bake for 35 to 45 minutes or until the chicken is completely cooked.
Serve with:
flour and/or corn tortillas (warmed)
fresh, chopped cilantro
salsa or chopped tomatoes
shredded cheddar or pepper jack cheese
lime slices
hot sauce
sour cream or plain greek yogurt
Enjoy!
~Melissa
You may enjoy these related posts: