Print Friendly Version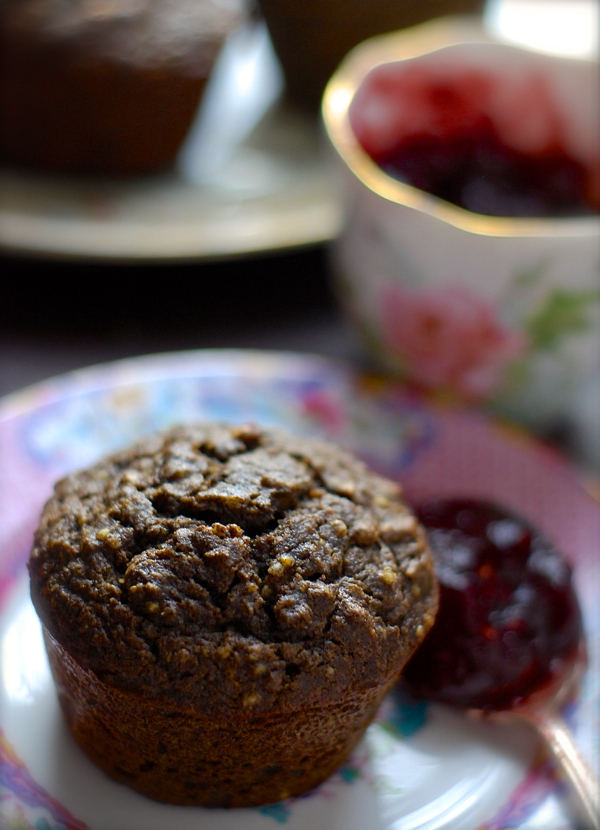 Yesterday my friend Nancy and I went to Bayside for lunch (yum!) and then we did a little thrift store shopping (fun!). A used bookstore opened just up the street from me and we had a good time browsing in there for awhile too. I can't wait to share the cool stuff I found with you! I'll include pictures and descriptions in my "Scenes" post this upcoming Sunday.
Tomorrow, Andie and I are going to tea at our friend Dave's, so today I'm having fun baking up some healthy treats in my kitchen that I can share at his gathering. Hmmmm… what else? Oh, we're looking forward to seeing my mom and siblings this weekend! We're having everyone down to our place for my brother Phillip's birthday celebration. I like to let my brothers and sister choose the menu and specific cake request when we celebrate. This year Phillip chose Country Style BBQ Ribs for the main course and his favorite Chocolate Cherry Cake with Fudge Frosting for dessert. The rest of the menu will include: deviled eggs, teriyaki wings, maple baked beans, and coleslaw. I'll be sure to share photos and recipes after our soiree to offset all of the quinoa, gluten free recipes, salads and buckwheat I've been posting lately. It's nice to have a little fun with our menu on the weekends, that's for sure. Eating healthy the other 99% of the time has not been without it's rewards. I've lost 14 lb. in the last month. YAY!
Okay… even though these are completely gluten free, they taste awesome. The texture is feather light and the sunflower seeds add interest and a satisfying crunch. They remind me of spice cake. Seriously. Try these. Even if you don't have diet restrictions.
I decided to call them Mud Pie Muffins because the batter looks exactly like the "gourmet" mud pie batter I use to make when I was hosting my imaginary cooking show as a child. Yup, folks, it looks like mud. Not. Gonna. Lie. 🙂
~ preheat oven to 375 degrees F ~
1 cup buckwheat flour
1/4 cup milled flax
3/4 cup brown sugar
1/4 cup unsalted sunflower seeds
1 teaspoon baking powder
1/2 teaspoon baking soda
1/2 teaspoon sea salt
1 teaspoon pumpkin pie spice
1 teaspoon cinnamon
1 teaspoon ginger
1/2 teaspoon nutmeg
1/4 teaspoon ground cloves
3/4 cup cooked quinoa
2 large eggs, lightly beaten
3/4 cup pure pumpkin puree (canned is fine)
1/2 cup buttermilk
5 Tablespoons melted, unsalted butter
2 teaspoons pure vanilla extract
Cook quinoa according to manufacturer's directions. Drain well and set aside 3/4 cup for this recipe.
In a big mixing bowl, combine: buckwheat, flax, sugar, sunflower seeds, baking powder, baking soda, salt and spices. Mix well so all ingredients are evenly incorporated
In a medium mixing bowl, combine: the cooked quinoa, eggs, pumpkin, buttermilk, butter and vanilla. Mix well and add to the dry ingredients. Mix well until all ingredients are incorporated. There will be a few lumps in the batter, but that's okay.
Pour into greased muffin tins (or paper-lined tins, or a Demarle/Silpat pan which requires no preparation.)
These bake up pretty fast, so keep an eye on them. They're done when a wooden skewer inserted into a muffin comes out with a few crumbs on it. (Approximately 20 to 25 minutes.) Allow muffins to rest in the pan for 5 minutes before removing to a cooling rack to cool completely. Enjoy warm or at room temperature. Once the muffins are cool, place them in an airtight container and refrigerate them.
XO,
~Melissa
You may enjoy these related posts: