Print Friendly Version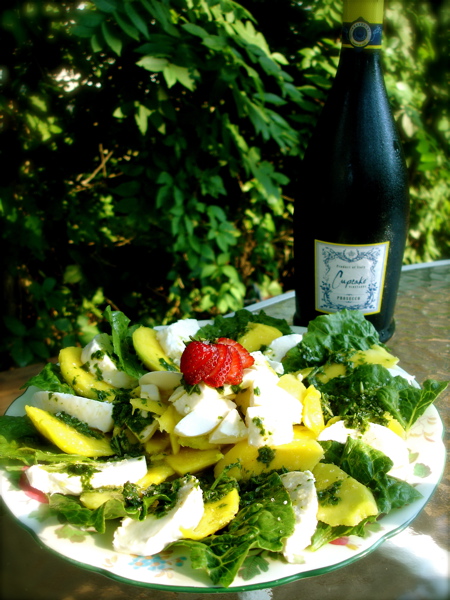 ~mango caprese~
"One way can be learned by starting to see the magic in everything. Sometimes it seems to be hiding, but it's always there. The more we can see the magic in one thing, a tiny flower, a mango, someone we love, then the more we are able to see the magic in everything and everyone. Where does the mango stop and the sky begin?" ~Joshua Kadison
This is a twist on the traditional caprese salad recipe. Get the freshest possible mangoes for this lovely, summer dish and pair it with a little glass of prosecco sparkling wine. The flavors of the mango, mozzarella, and basil combine perfectly with sea salt, sugar and cayenne pepper. We toasted a baguette and enjoyed the salad on little buttered slices of the chewy bread, but this is good without the bread too.
On a plate, alternate slices of:
fresh mango
fresh buffalo mozzarella
romaine leaf pieces or radicchio leaf pieces
~basil vinaigrette~
In a food processor, combine:
1/4 cup fresh basil leaves
3 Tablespoons extra virgin olive oil
2-3 Tablespoons white balsamic vinegar
drizzle vinaigrette over caprese salad.
over the top, sprinkle:
a little coarse sea salt
coarse turbinado sugar
a dash or two of cayenne pepper
Enjoy!
~Melissa
You may enjoy these related posts: