Print Friendly Version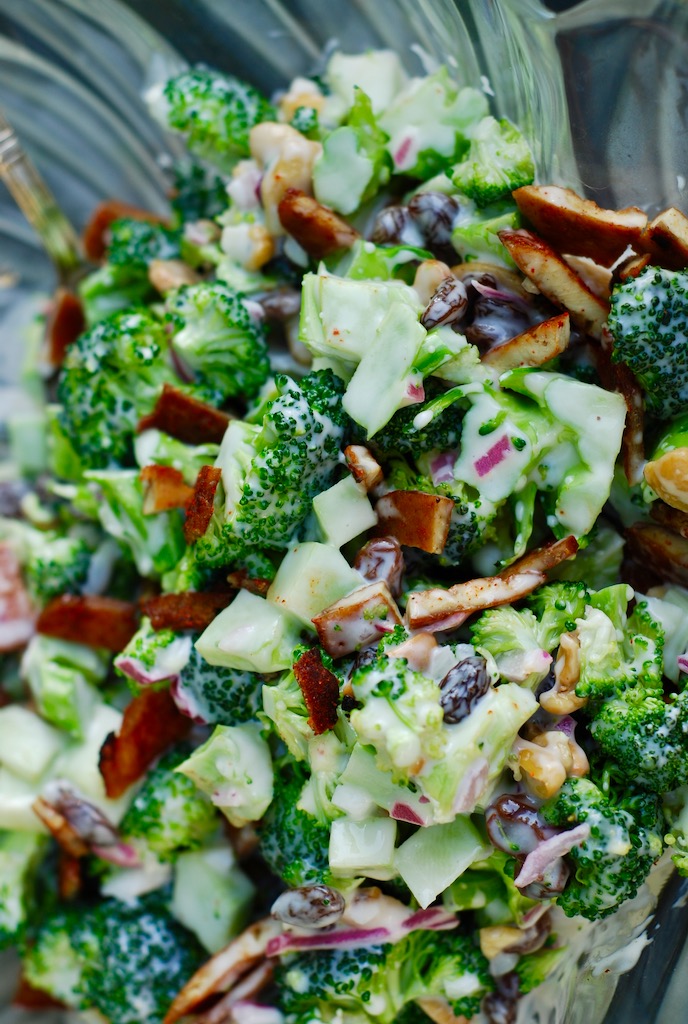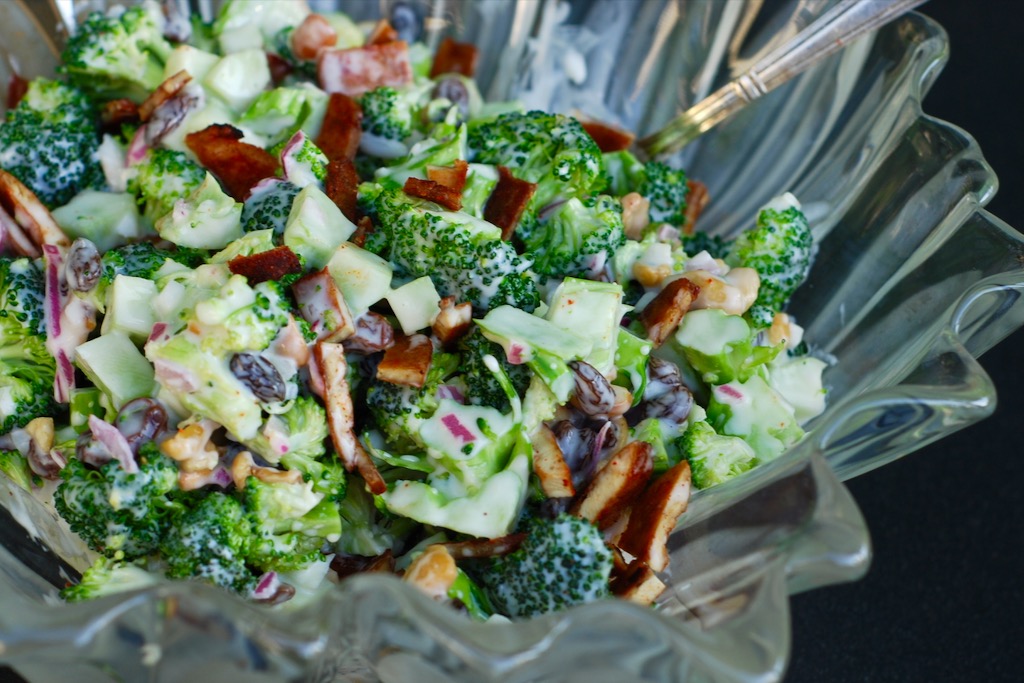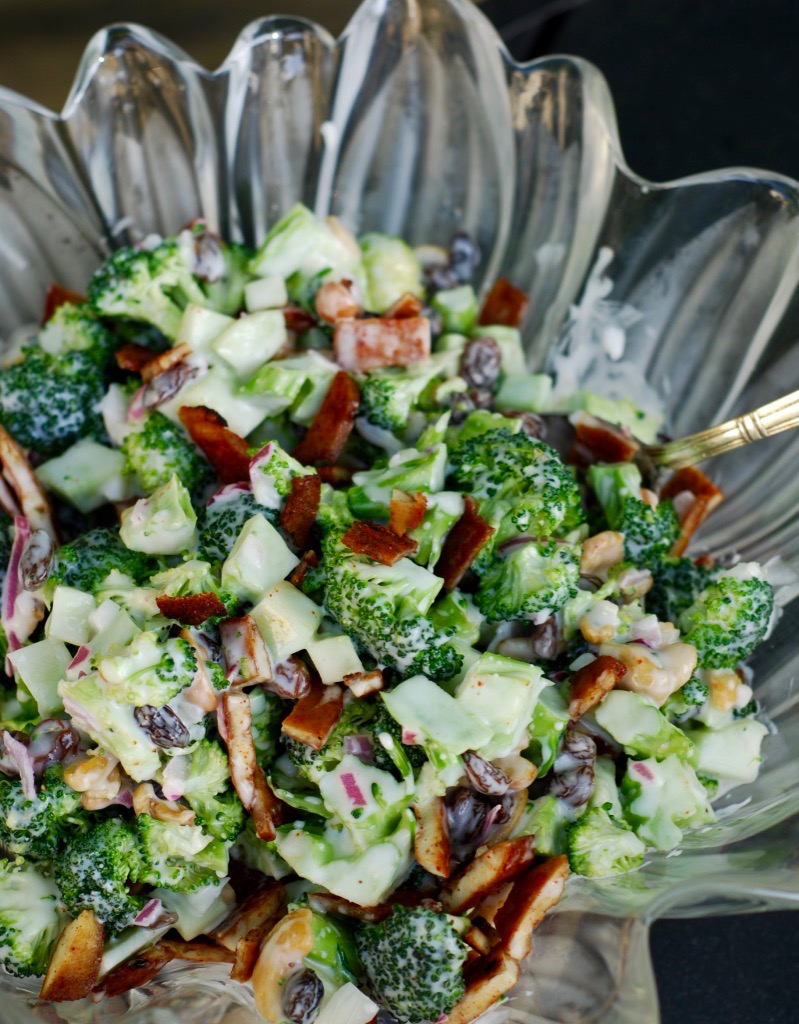 So what do you do when you're vegan and craving a specific salad that isn't vegan? You make a vegan copycat recipe, of course! That's exactly what I did with the famous Sweet Tomatoes Restaurant/Souplantation recipe for "Broccoli Madness" salad. Oh. MY. YUM. It turned out so good, and even better than the original, in my opinion.
What I love about vegan recipes (aside from the fact that they are completely cruelty free… which is obviously the BEST reason…) is that they are so much healthier and lighter than the original. Lots of crunchy fresh veggies and no cholesterol, so by the time you're done making the tasty salad it's still pretty darn good for you. Salads should be healthy. I mean, it's salad.
And don't ya just love that name? What are you bringing to the potluck? Broccoli Madness! Yeah, you are. 🙂
for the salad:
1 big bunch broccoli, cut into bite size florets, stems peeled and chopped
1/2 cup to 3/4 cup vegan tofu bacon, cut into little strips or pieces (***recipe for the tofu bacon below)
1/2 cup to 1 cup cashews
1/3 cup to 1/2 cup raisins
1/3 cup finely chopped red onion
1 cup vegan mayonnaise
1/3 cup sugar (you can use coconut sugar if you wish, but it will change the color of the dressing)
2 Tablespoons apple cider vinegar
Mix all dry ingredients in a big salad bowl. In a smaller bowl, combine the mayonnaise, sugar, and vinegar using a wire whisk. Pour the dressing over the salad and toss to combine so everything is evenly coated. Allow the salad to chill for at least an hour prior to serving.
*** for the tofu bacon:
~ preheat oven to 425 degrees F. ~
1/4 cup low sodium soy sauce
2 Tablespoons pure maple syrup
1 Tablespoon liquid smoke
2 teaspoons smoked paprika
a pinch of cayenne pepper
a few grinds of fresh black pepper
14 oz. extra firm tofu (I like Trader Joe's double protein tofu for this)
Press the tofu in advance to remove excess liquid, and then thinly slice it. Mix the marinade ingredients in a small cake pan with a lid. Place the tofu slices in the marinade and allow them to marinate for 15 to 30 minutes (or even over night.)
Line a large baking sheet with a Silpat mat or cooking parchment. Place the tofu slices on the baking sheet so they're not touching.
Bake 15 minutes. Flip. Bake an additional 15 minutes. Brush the slices with the excess marinade as they cook.
The tofu bacon should be dark and dry when it comes out of the oven, so cook it a little longer if you need to. It will crisp up a bit as it cools.
Store in airtight container in your refrigerator. This bacon will keep for up to 10 days. We love it on BLTs too!
Enjoy!
~Melissa
You may enjoy these related posts: