Print Friendly Version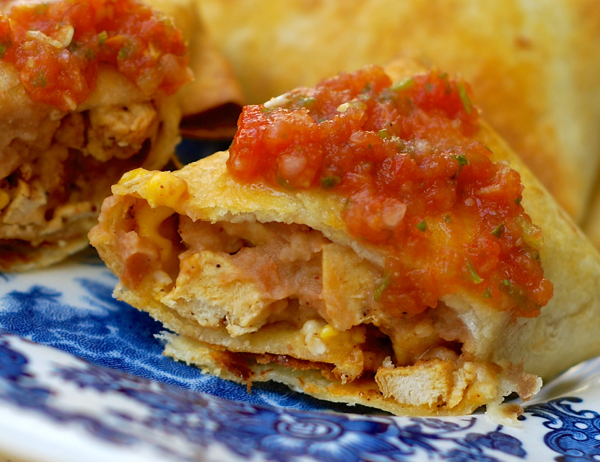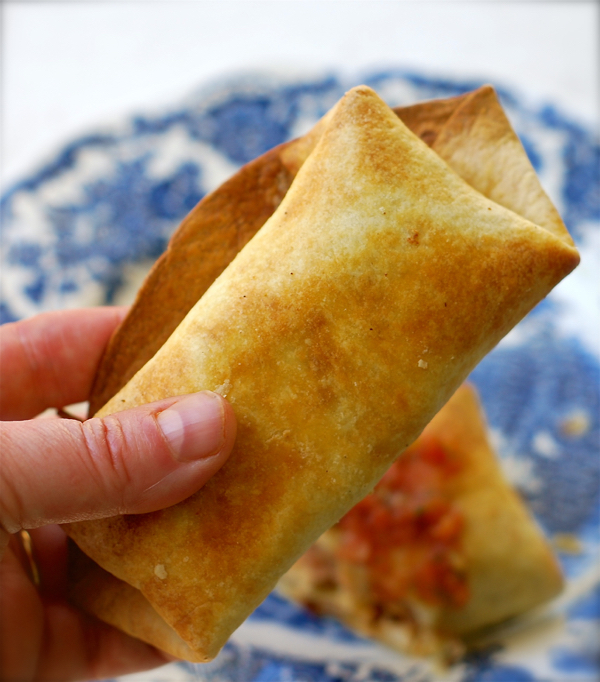 Seriously easy, delicious chimichangas you make in your air fryer! They get super crunchy and only take about 8 minutes to cook. I made a batch for me and Jeff one day for lunch and he loved them.
I like to make my own taco seasoning for these, but feel free to use the pre-made stuff if you like it.
~ makes 8 to 10 chimichangas ~
8 to 10 small (taco sized) flour tortillas
1 bag Gardein "chicken" tenders (the unbreaded ones)
1 teaspoon olive oil
2 teaspoons smoked paprika
1 teaspoon garlic powder
1 teaspoon chili powder
1 teaspoon onion powder
1 teaspoon cumin
1 can vegan refried beans
3 Tablespoons salsa
1 cup shredded vegan cheddar cheese (we love Go Veggie)
vegan butter for coating chimichangas
Heat the olive oil in a skillet and once it's hot, reduce to medium-high heat and add the "chicken." Sprinkle all of the different spices on top and cook until heated through and light golden brown. Don't overcook the strips. Remove from heat and set aside.
Place the refried beans in a saucepan and add the salsa to them. Cook until just heated through. Remove from heat.
Chop up the "chicken" and mix it in with the beans. Place approximately 1/4 cup of the mixture in the center of one of the tortillas, sprinkle 2 Tablespoons of cheese over the filling and roll up, tucking in the sides as you go so all of the filling is contained and none is seeping out the sides. Repeat with the remaining tortillas until you run out of filling.
Rub each chimichanga with some vegan butter and place 3 to 4 chimichangas in your air fryer. Air fry at 375 degrees F. for 4 minutes (check the chimichangas after about 3 minutes to see how they're browning.) When they're lightly golden, flip them and cook 2 to 3 minutes longer. Each air fryer is a bit different so cooking time isn't exact. All of the filling is cooked, you're just cooking the chimichangas until the filling is heated through and the tortillas are crispy and golden.
Trnasfer to a plate and cook the remaining chimichangas, 3 to 4 at a time, until done.
Serve with vegan sour cream, cashew cream, fresh salsa or pico, and a sprinkling of freshly chopped cilantro.
Enjoy!
~Melissa
You may enjoy these related posts: