Print Friendly Version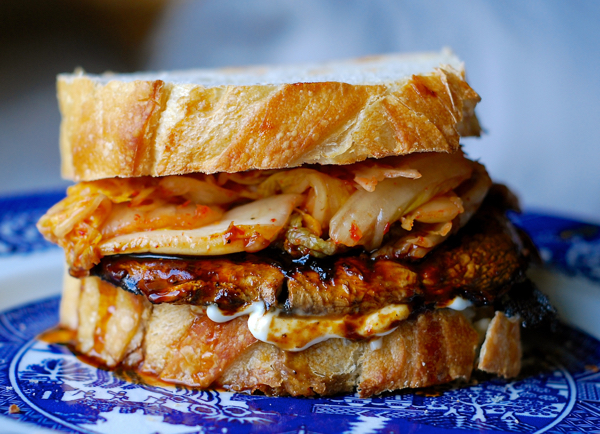 This hearty sandwich features the "meaty" Portobello mushroom. These mushrooms are perfect grilled over charcoal or in a grill pan on your stove top. I love the smoky sweetness of Korean BBQ sauce. If you have a favorite brand of Korean BBQ sauce, and want a shortcut, just use that in place of the homemade marinade ingredients. Trader Joe's makes an awesome Korean BBQ, and I like the Momofuko Ssam Korean Chili Sauce too. Either way, this sandwich is nothing short of outstanding.
~ makes 2 sandwiches ~
for the marinade:
1/2 cup low sodium veggie stock
2 Tablespoons molasses
3 Tablespoons pure maple syrup or brown sugar
3 Tablespoons tomato paste
2 Tablespoons lite soy sauce OR vegan Worcestershire sauce
2 Tablespoons saki OR red wine
2 Tablespoons balsamic vinegar
1 Tablespoon liquid smoke
1 teaspoon dark sesame oil
2 teaspoons Sriracha hot sauce
1 teaspoon onion powder
2 large garlic cloves, minced
Mix all marinade ingredients in a square, glass cake pan or pie plate. Marinate the mushroom caps, gill side up, for an hour. Make sure the mushrooms are covered in marinade.
for the sandwiches:
2 large portobello mushroom caps, stems removed
olive oil for grill
4 slices rustic sourdough bread (a sturdy, crusty bread that will hold up well) or 2 ciabatta rolls
vegan mayonnaise
1/2 cup vegan kimchi (careful not to get the stuff with fish in it)
grilling the mushrooms:
Turn grill to medium-high heat, or equivalent for a charcoal grill. You don't want the mushrooms to burn. Brush grate of grill with olive oil. Reserve the mushroom marinade for basting. Grill mushrooms 5 to 7 minutes per side, or until tender, marinating frequently.
building the sandwich:
Spread each slice of bread with some vegan mayonnaise. Place grilled mushroom cap on the bottom slice of bread. Top with kimchi and the other slice of bread. Serve with more Korean BBQ sauce or regular BBQ sauce, if you wish.
Enjoy!
~ Melissa
You may enjoy these related posts: