Print Friendly Version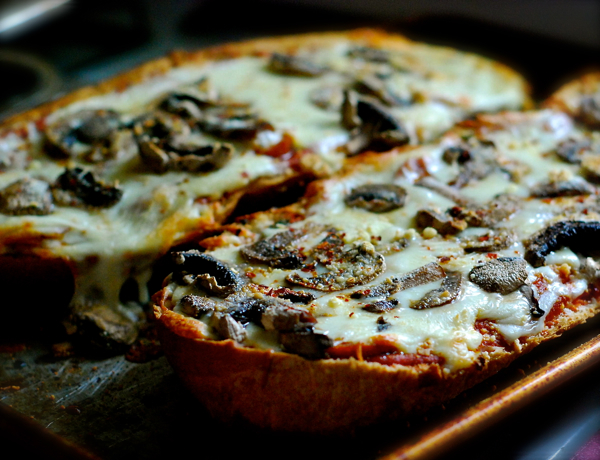 Hi, Lovelies! I know you're all feverishly preparing picnic favorites for your 4th of July celebrations, but you still have to eat, right?
I decided to do a quickie blog post and share one of my favorite "non" recipe-recipes with you. This is meant to be easy, filling and delicious, not gourmet. Use your favorite soft, French bread, pizza sauce and Mozzarella. Don't forget your favorite toppings! I used pepperoni and fried onions (under the cheese) and fresh baby bella mushrooms and fresh minced garlic on top.
1 long, soft loaf of French bread
1 to 1 and 1/4 cups pizza sauce (I LOVE Don Pepino)
pepperoni
1 cup fried onions (I fried mine in 1T butter and 1T olive oil)
16 oz. grated Mozzarella cheese
3 teaspoons freshly minced garlic
fresh, chopped basil, to taste
freshly chopped oregano, to taste
sea salt, to taste
red pepper flakes, to taste
Split long loaf in half, lengthwise. Place on a long baking sheet. Top with pizza sauce, pepperoni, fried onions, Mozzarella cheese, mushrooms and minced garlic.
Bake at 425 degrees F. until golden and cheese is melted (approximately 15 minutes.)
Slice and plate pizza. Garnish with the freshly chopped herbs, salt and pepper.
Enjoy!
~Melissa
You may enjoy these related posts: