Print Friendly Version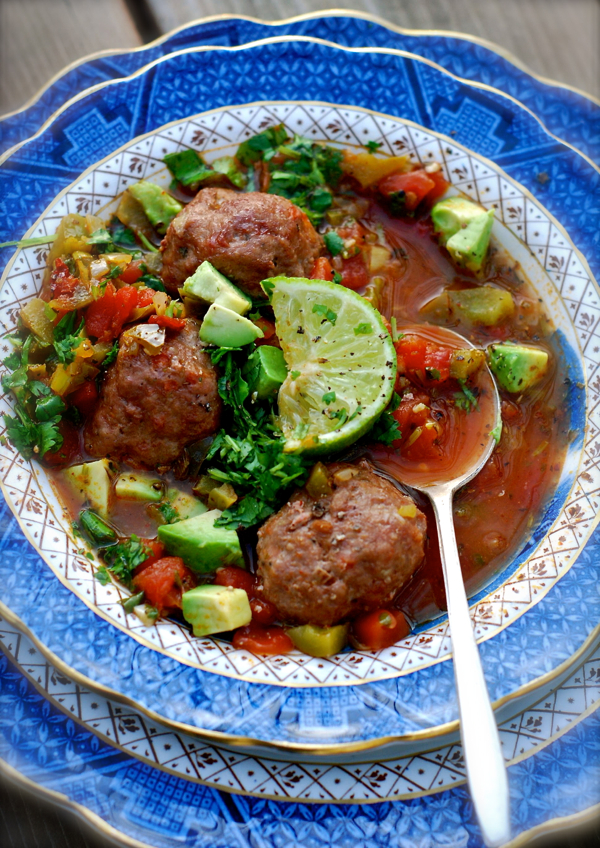 The first time I heard of this gorgeous, spicy soup I was watching one of my favorite romantic comedies, Fools Rush In. There's this scene where Isabelle (Salma Hayek) and Alex (Matthew Perry) are discussing some of their favorite foods from where they live.
Alex: "Perfect would be New York and a Gray's Papaya hot dog…The best hot dog in the world."
Isabelle: "And if we were in Mexico we'd be eating Albondigas. They're this sort of meatball soup. My grandmother was famous for them."
So, of course I had to try making them. This has quickly turned into a family favorite. I've made this a couple of different ways. The more traditional way includes rice. The less traditional way is the way that I prefer because our family diet is becoming more and more Paleo. We're focusing on leaving the the extra "carby" foods behind as much as possible. If you decide to make this with rice, simply omit the almond milk and add 1/4 cup plain greek yogurt + 3/4 cup cooked white rice to the ground meat mixture.
for the meatballs:
3 Tablespoons olive oil
2 cups finely chopped onion
1 cup finely chopped carrot
1 Tablespoon finely minced, fresh garlic
1 lb. ground beef/ground chuck
1 lb. lean ground pork OR turkey
2 large eggs, lightly beaten
2 Tablespoons unsweetened almond milk
1 Tablespoon Mexican dried oregano
2 teaspoons freshly ground black pepper
Heat the olive oil in a large skillet over medium heat. Add onion, carrot and garlic. Cover and cook, stirring frequently, for 10 minutes.
Scrape mixture into a large mixing bowl. Add the beef, turkey, eggs, almond milk, oregano and pepper. Mix and knead, using your hands, until well blended. Chill for at least 2 hours or overnight. Form into golf ball-sized meatballs. Place meatballs on two lightly greased baking sheets. Bake in a 350 degree F. oven for 25 to 30 minutes, or just until done (check by cutting a meatball open, if it's still pink, let them cook a bit longer.) Cover meatballs with foil to keep them warm while you make the soup. If you can't find Mexican dried oregano, just use regular dried oregano.
for the soup:
1/4 cup olive oil
2 cups chopped onion (I used yellow onion and green onion)
6 Poblano peppers OR 3 green bell peppers, fire roasted and chopped
1 serrano pepper, chopped fine
2 chipotle peppers in adobo sauce
2 large cloves garlic, minced
2 Tablespoons cumin
2 Tablespoons chili powder
2 teaspoons Mexican dried oregano
1 teaspoon smoked paprika
1/2 teaspoon cinnamon
32 oz. low-sodium or unsalted chicken broth/stock
2 (15 oz.) cans fire roasted, petite diced tomatoes
1 cup chopped, fresh cilantro + more for serving
lime wedges, for serving
chopped avocado, for garnish
Divide the olive oil between 2 large, heavy skillets (I do this so the skillet doesn't get crowded. If you crowd a pan with too many uncooked veggies at once, you'll end up steaming them and they won't brown.) Heat over medium high heat. Once oil is hot, add the following ingredients, dividing them between the two pans: onion, peppers, chipotle, garlic, cumin, chili powder, oregano, smoked paprika and cinnamon. Saute until everything is tender and fragrant. Scrape the contents of the skillets into a stock pot/soup pot. Add the chicken broth, tomatoes and cilantro. Bring to a boil and then reduce heat to very low. Allow soup to simmer gently for 20 minutes.
To serve:
Place a few meatballs in each bowl and ladle some of the soup over the meatballs. Top with some chopped cilantro, chopped avocado and freshly squeezed lime juice. Salt and pepper to taste. Serve.
Enjoy!
~Melissa
You may enjoy these related posts: