Print Friendly Version
"Garlic is the ketchup of intellectuals." ~Author Unknown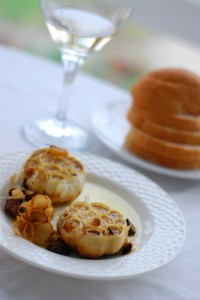 Oven Roasted Garlic
So good for you, so yummy, so easy to prepare.
A nice appetizer with baguette, fantastic pizza topping and a good accompaniment to
Heat oven to 350
Cut the tops off two whole heads of garlic. Place in a small, glass, oven proof dish. Pour a generous amount of extra virgin olive oil over the heads, making sure to coat the cloves well. Replace tops. cover with a tight fitting lid or foil. Bake for an hour, or until the cloves become soft and spreadable.
Roasted Garlic Aioli
You can use this aioli as a dip for crudite, a sandwich spread, or as salad dressing
1 head oven roasted garlic, all skins removed
1 large egg
1 Tablespoon freshly squeezed lemon juice
1 Tablespoon fresh parsley, chopped fine
1/2 teaspoon salt
freshly ground black pepper
1/2 cup extra virgin olive oil
Combine the garlic, egg, lemon juice, parsley, salt, and pepper in a food processor or blender and purée. Stream in the oil and continue to process until the mixture has formed a thick emulsion. Serve immediately or store, refrigerated, overnight in an airtight container. Yield: 3/4 cup
Enjoy!
~Melissa
You may enjoy these related posts: