Print Friendly Version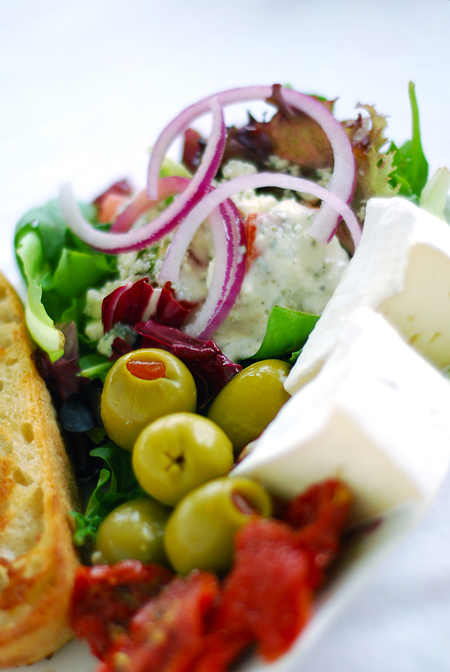 Ploughman's Lunch
Jeff and I enjoyed Ploughman's lunch on the front porch today while it rained. So romantic…
Ploughman's lunch is a cold snack, or small meal much like high tea, the main difference being that 'high tea' usually includes a hearty meat course. Both originated in the UK. Ploughman's lunch is usually composed of:
~Cheese-Cheddar and Stilton are common (today I chose triple cream brie.)
~Pickle (or as Americans call it, relish)-much like chutney (today I chose extra virgin olive oil marinated sundried tomatoes and large Spanish olives.)
~Crusty bread, or bap, and butter. I usually serve Italian boule, or French baguette
~Green salad– I usually serve mine with fresh, thin slices of red onion, or pickled onions, and a sprinkle of Gorgonzola cheese, and my homemade Icebox Salad Dressing (recipe below.)
~Seasonal fresh fruit
~wine, hard cider, stout, coffee or tea

*
Leisa's Buttermilk Icebox Salad Dressing
1 cup real mayonnaise
1/3 cup freshly grated Parmesan cheese
juice of one lemon
1 teaspoon lemon zest
1 clove garlic, minced
1/2 teaspoon onion powder
1 Tablespoon fresh oregano, chopped
1 teaspoon sugar
3 Tablespoons buttermilk
Place all in a canning jar. Shake well
Enjoy!
~Melissa
You may enjoy these related posts: