Print Friendly Version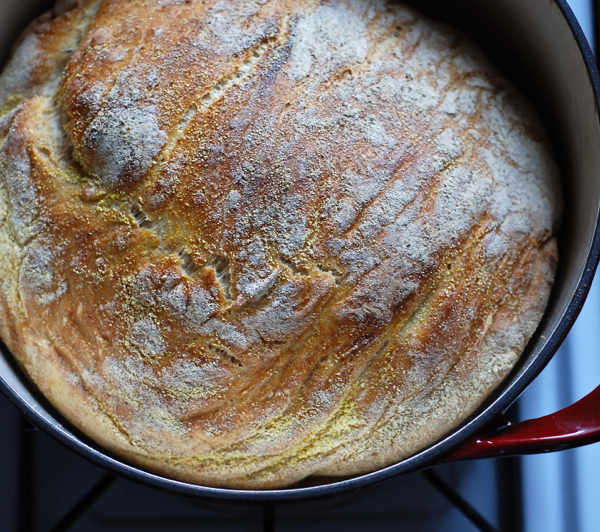 ~ crusty dutch oven bread ~
"The smell of good bread baking, like the sound of lightly flowing water, is indescribable in its evocation of innocence and delight." ~M.F.K. Fisher
This is a very easy recipe that yields a gorgeous loaf of crusty bread! This is the perfect bread to make on a lazy day off when you don't plan on leaving the house. Stay in your jammies, watch old movies or read a good book, write letters, knit… It takes between 8 and 18 hours for the dough to proof, so it's a good idea to mix up the dough before you go to bed to give it a head start while you sleep…
In a large bowl, dissolve:
1 packet active dry yeast (2 and 1/4 teaspoons)
in
1 and 1/2 cups warm water
Mix in:
3 cups all-purpose flour
and
1 and 1/2 teaspoons salt
Stir with a wooden spoon until well blended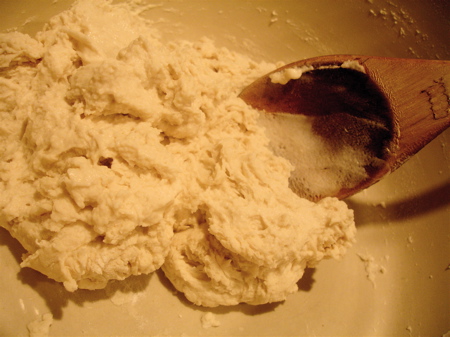 The dough will be shaggy and sticky. Cover bowl with plastic wrap and allow to proof in a 70 degree room for 8 – 18 hours. The dough is ready for the next step when the surface is dotted with bubbles. Flour a work surface. Place dough on it. Fold it over on itself twice. Cover loosely with plastic wrap, and allow to rest for 15 minutes.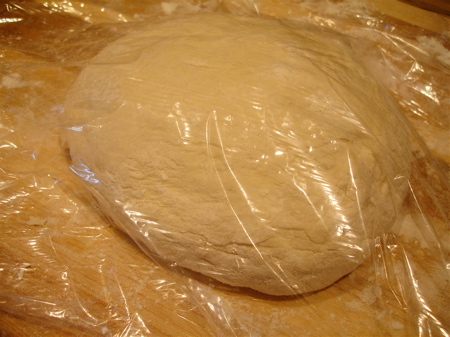 With floured hands, shape into a ball. Place a clean dish towel in a big bowl and sprinkle a little cornmeal over so you have enough to coat the underside of your loaf.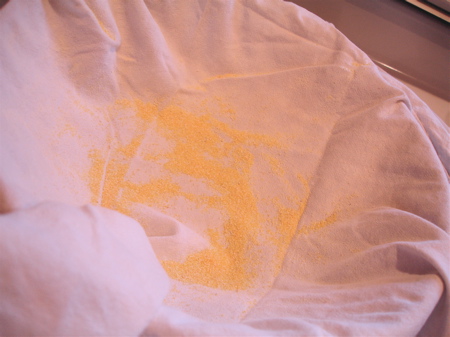 Place the dough ball, seam side down, on towel inside the bowl and sprinkle the top of the loaf with a little more cornmeal.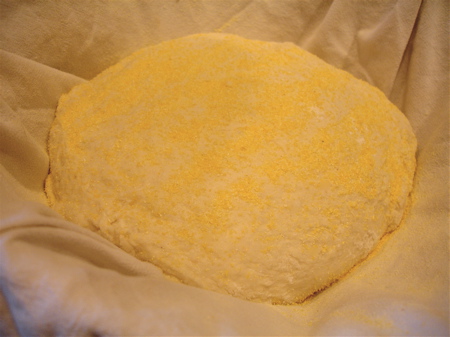 Cover with the other end of the flour sack towel, or cover with another clean flour sack towel.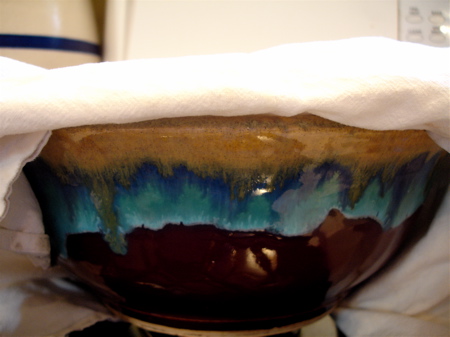 Allow dough to raise for 2 hours in a warm spot. This is when I turn the oven on. I set the dough bowl on one of the burners and the warmth from the oven is the perfect temp. to encourage the dough to double in size. You know the dough is ready to bake when it doesn't readily spring back when poked with your index finger.
Heat oven to 475 degrees F. 20 minutes before the dough is done rising, place your Dutch oven (6 quart size) in the oven to get it ready for the bread. When dough is ready, remove pot from oven, lift off lid and place bread dough in the pot, seam side up. Shake gently a couple times to evenly distribute the bread. Cover and bake for 30 minutes. Remove lid and bake for another 20 minutes. The bread should be beautifully browned. Remove to a rack and allow bread to cool one hour prior to slicing and serving.
This is seriously the best bread I've ever made. Jeff and Gracie concur 🙂
Enjoy!
xoxo,
~Melissa
You may enjoy these related posts: