Print Friendly Version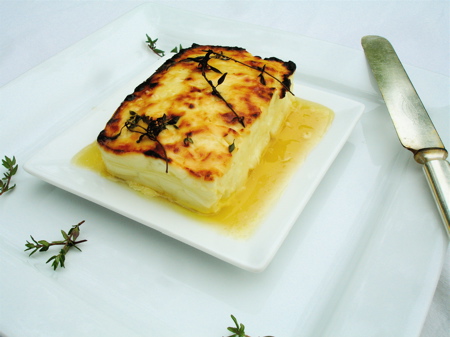 ~toasted feta with thyme & clover honey~
This is unbelievably good and very easy to make. A perfect appetizer to serve with baguette and your favorite white wine.
8 oz. chunk of feta, blotted
2 Tablespoons extra virgin olive oil
3 Tablespoons clover honey
fresh thyme sprigs
sea salt and fresh ground pepper
Preheat oven to 400 degrees F. Place feta on an oven-to-table dish lined with aluminum foil. Cover cheese with the olive oil. Bake until soft and springy (8-10 minutes.) Preheat broiler. Heat honey in microwave until pourable. Pour over the feta. Place a few fresh thyme sprigs on top. Watching closely, broil until browned and starts to bubble. Remove from oven, transfer to a pretty plate, sprinkle with salt & pepper and serve.
Enjoy!
~Melissa
You may enjoy these related posts: