Print Friendly Version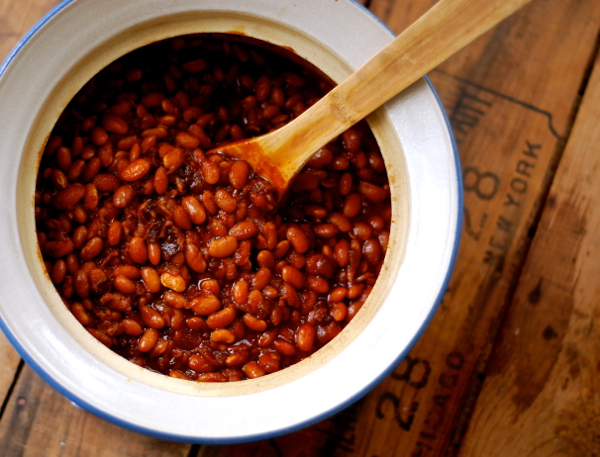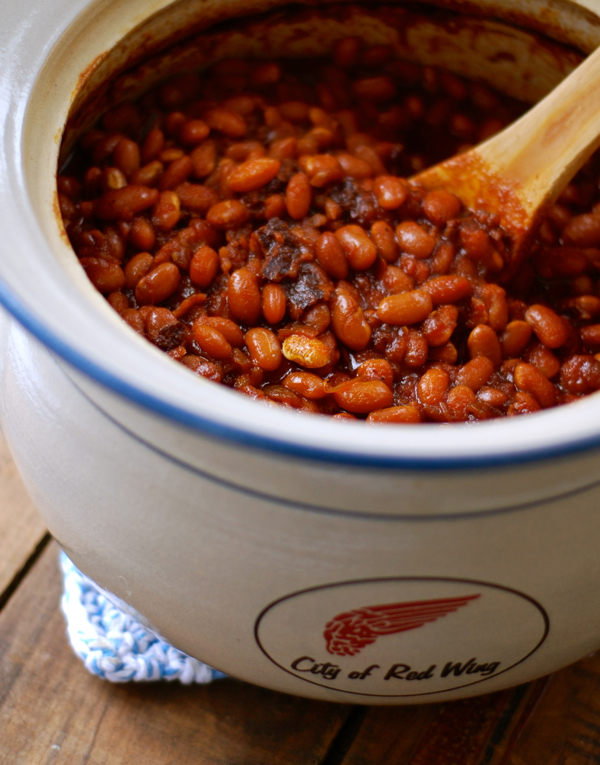 I purchased a 5 quart, Red Wing Pottery bean pot recently and I couldn't wait to make my first batch of homemade baked beans in it! I had so much fun creating this decadent bean recipe. They're perfectly sweet, smoky, tangy, bacony, rich and saucy. Feel free to leave out the bourbon at the end if you like, but it really does add a little something extra. If you don't have a big enough bean pot to accommodate 2 lb. of baked beans, this recipe can easily be cut in half for a smaller pot. Remember to fill the pot no more that 3/4 full, because your beans will expand as they bake.
These beans will be the perfect addition to your next picnic, church supper, or pot luck!
2 lb. dry, great northern beans, washed and sorted
3/4 cup thick cut, applewood smoked bacon, chopped
2 large onions, chopped
6 oz. tomato paste
1 heaping cup dark brown sugar
1/2 cup molasses
1/2 cup sweet, smoky BBQ sauce (I used Trader Joe's Organic Brown Sugar BBQ)
1 large garlic clove, minced
2 Tablespoons Worcestershire sauce
2 Tablespoons balsamic vinegar
1 Tablespoon Dijon mustard
1 Tablespoon sambal oelek OR sriracha hot sauce
1 teaspoon red pepper flakes
1 teaspoon dry ginger
1 teaspoon sea salt
1/2 teaspoon cayenne pepper
1/2 teaspoon freshly ground black pepper
1 bay leaf
1 to 2 shots Bourbon (such as Wild Turkey or Widow Jane)
Soak beans overnight in a big bowl, covered with cold water. Place in refrigerator.
The next morning, preheat oven to 250 degrees F.
Place a heavy, cast iron Dutch oven over medium heat. Add bacon and onion. Cook, stirring frequently, for 5 to 7 minutes, or until onions are tender. Stir in tomato paste, brown sugar, molasses, BBQ sauce, garlic, Worcestershire sauce, balsamic, Dijon, hot sauce, red pepper, ginger, sea salt, cayenne, and black pepper. Stir well. Bring to boil and then remove from heat.
Drain beans very well and transfer to a large mixing bowl (I use a very large bread mixing bowl for this.) Pour prepared sauce over beans and mix well. Transfer all to a 4 to 5 quart bean pot. Insert a bay leaf into the center of the beans. Cover pot and bake in preheated oven for 7 to 8 hours or until beans are completely soft and cooked all the way through. Remove lid from pot during last half hour of cooking time so the sauce can thicken. Add the bourbon and remove the bay leaf just before serving. Mix well.
Enjoy!
~Melissa
You may enjoy these related posts: