Print Friendly Version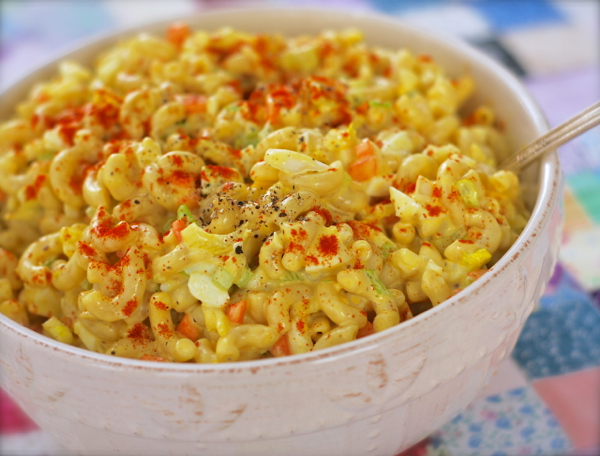 We adore macaroni salad, and I seem to make a lot of it during the spring and summer months. It's an easy, frugal, delicious and very versatile thing to have around. I serve it as a side dish with dinner, pack it into Mason jars for inpromptu picnics, and I usually make enough so I can send a bowl home with my daughter for her and my grand girls. It's awesome stuff!
I came across this particular recipe while paging through an Amish cookbook I purchased at a thrift store last week. The ingredients are simple enough, but when it all comes together it tastes amazing. Addictive too. Careful not to overdo it 😉
for the salad:
1 lb. elbow macaroni
1 Tablespoon vegetable oil
6 hard boiled eggs, cooled and chopped
1 small onion, chopped fine
5 celery ribs, diced small
1 cup carrot, diced small
Cook macaroni according to the package directions for al dente pasta. Drain very well. Toss with the vegetable oil. Cool completely. While pasta is cooking, hard boil the eggs. Cool completely, peel and chop. Add cooled eggs to cooled pasta along with the onion, celery and carrot. Mix well. Toss with dressing (recipe below.)
for the dressing:
1 and 1/2 cups real mayonnaise (no substitutions)
1/2 cup sugar
1/4 cup yellow mustard
3 Tablespoons sweet & spicy pickle relish (I used the Pain is Good brand)
2 Tablespoons apple cider vinegar
1 teaspoon celery seed
salt and black pepper, to taste
paprika, for garnish
Mix everything, except the paprika, in a medium mixing bowl until smooth. Pour over completely cooled salad ingredients and mix well. Garnish with paprika. Cover tightly and chill until ready to serve. This salad will keep in your refrigerator for 5 days.
Enjoy!
~Melissa
You may enjoy these related posts: