Print Friendly Version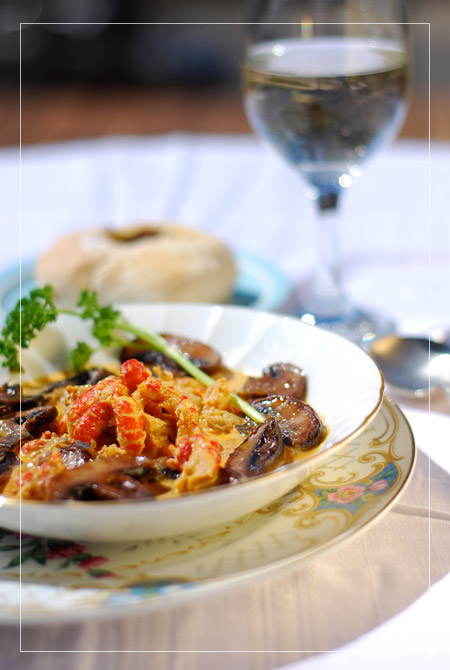 ~ lobster bisque ~
This is a beautiful soup to serve as a first course to a company dinner. Just look at that color!  So simple and flavorful with a creamy base and three different kinds of fish. Feel free to use crab or crawfish in place of the lobster. This is especially lovely with Polish bialys or THESE scones ….and for the kiddos, sprinkle a few goldfish crackers over the top.
5 strips thick cut bacon
2 medium onions, chopped
4 large cloves garlic, minced
2 Tablespoons butter
2 Tablespoons white flour
2 cups chicken, fish or vegetable stock
1 cup dry white wine or dry sherry
2 cups baby bliss potatoes, unpeeled and diced
1 Tablespoon fresh thyme leaves
1 pound whitefish fillets (cod, haddock or fluke)
1 pound lobster, crab or crawfish, shelled and cleaned
1 pound mussels
1 cup heavy cream
1 teaspoon Tony Chachere's  original Cajun seasoning or Old Bay seasoning
1 teaspoon curry powder
1/2 teaspoon smoked paprika
1 pinch saffron threads
salt and freshly ground black pepper to taste
1/4 cup minced fresh parsley + extra, whole sprigs for garnish
sauteed mushrooms in white wine and butter (garnish)
In a large, heavy Dutch oven, fry up the bacon until crisp. Drain bacon on paper towels and add the butter to the pot. Saute the onions in the bacon drippings and butter until transparent. Add the garlic and cook for one minute. Add flour, stirring constantly for a few minutes, until the roux turns slightly golden. Stir in the stock, wine, potatoes and thyme and simmer until potatoes are tender (about 30 minutes.) Stir frequently to keep the soup from burning or sticking to the bottom of the soup pot. Cut the whitefish into chunks and add this, along with the lobster/crab/crawfish, to the pot. Simmer on low for 10 minutes, or until the fish and lobster/crab/crawfish are just opaque. Steam the mussels while the fish is finishing cooking. Stir in the cream, seasonings and parsely. Cook until just heated through, making sure not to let the soup boil. Ladle soup into bowls and top with steamed mussels, and bacon bits …or, save the bacon bits to sprinkle over a salad if you wish. Garnish with the buttery, white wine mushrooms and additional parsley sprigs!
Enjoy!
~Melissa
You may enjoy these related posts: