Print Friendly Version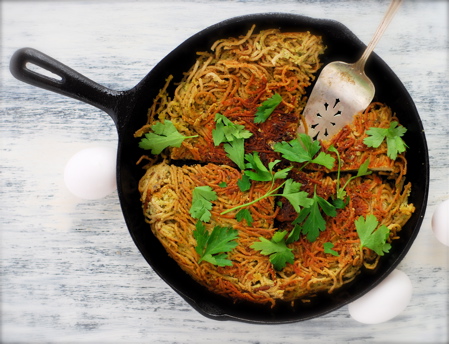 ~ fried pesto spaghetti pie ~
This is a delicious and easy dinner to make when you have leftover, already "sauced" spaghetti in the fridge. The spaghetti gets toasty and all of the flavors that have been marrying for a day or two will become more pronounced and concentrated when cooked this way. Trust me. You're going to love it! Oh, and you can use spaghetti that has been mixed with a red or alfredo sauce too…but, my favorite is pesto. Serve this with a salad of mixed greens, Roma tomatoes, artichoke hearts, olives, and your favorite Italian vinaigrette.
3 cups cooked spaghetti that has been tossed with 1/4 cup fresh pesto (add a little more, if you wish)
3 large eggs
1/3 cup milk
1/3 cup freshly grated Parmigiano Reggiano or Asiago cheese
freshly ground pepper
1/2 stick butter
Slowly heat the butter in a heavy skillet so it lightly browns and relaeses a nutty aroma.
Allow the pasta to come to room temperature if it's been in the fridge. Place it in a large bowl, and combine with all of the above ingredients. Spread the spaghetti mixture in the skillet and flatten it so it's a nice even layer in the pan. Cook over low heat, being patient, while the spaghetti forms a golden crust. Flip it and allow the other side to become golden too.  Transfer it to a warm plate. Sprinkle with more shredded cheese and cut into wedges. Serve hot.
Enjoy!
~Melissa
You may enjoy these related posts: