Print Friendly Version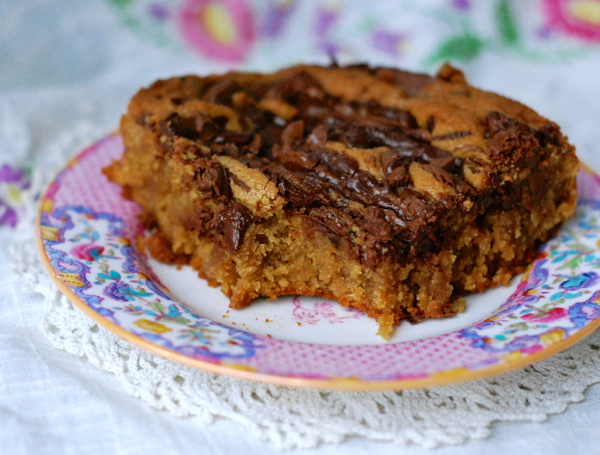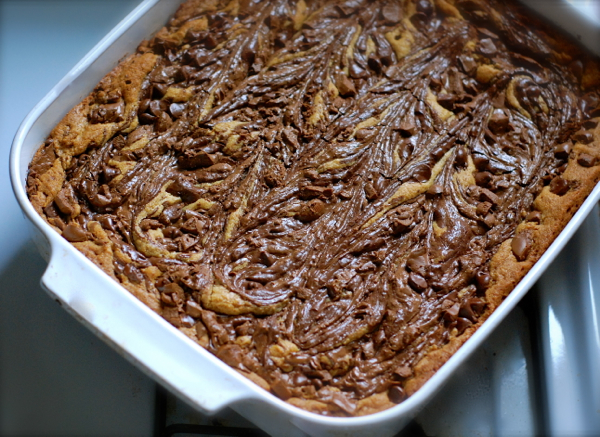 Are you ready for pure chocolate and peanut butter bliss? Oh. My. Yum. These are so rich, and decadent. Truly one of the best chocolate peanut butter desserts I've ever made or eaten! This would make a wonderful addition to a tea party, or a yummy lunchbox dessert!
~ preheat oven to 325 degrees F. ~
1 cup creamy peanut butter (I used Jif)
2/3 cup unsalted butter, softened to room temperature
1 and 1/2 cups light brown sugar
1 and 1/2 cups sugar
4 large eggs, lightly beaten
1 Tablespoon pure vanilla extract
2 cups all-purpose flour
2 teaspoons baking powder
1/2 teaspoon salt
6 oz. semi sweet chocolate chips
6 oz. milk chocolate chips
Butter a 9×13 glass cake pan.
In a large bowl, mix the peanut butter, butter, and sugars until smooth and fluffy. Add eggs and vanilla. Mix well. Add flour, baking powder, and salt. Mix well. Transfer mixture to prepared cake pan. Sprinkle the semi sweet chocolate chips and the milk chocolate chips evenly over the top. Place in preheated oven for 5 minutes. Remove from oven and swirl the chocolate into the peanut butter batter using a butter knife. Place back in oven and bake for 35 to 40 minutes (or until a wooden skewer inserted into the peanut butter part of the bars comes out clean. Some of the chocolate may stick to the skewer, and that's okay.) Place pan on wire rack and allow bars to cool for one hour.  Cut into 12 to 24 squares. Store in an airtight container or on a covered cake plate, at room temperature, for up to 5 days.
Enjoy!
~Melissa
You may enjoy these related posts: