Print Friendly Version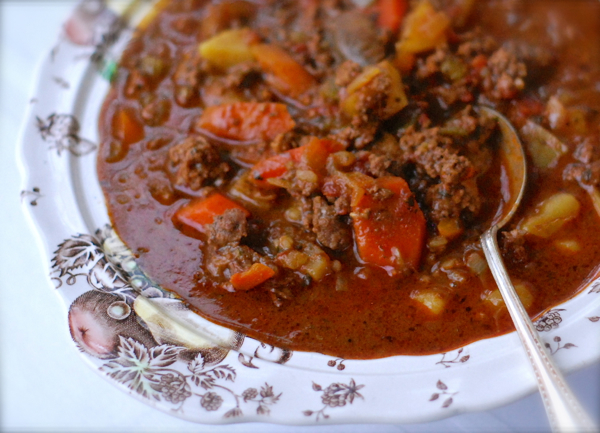 The weather doesn't know what it wants to do here in Minnesota. One day it's balmy and warm and I can walk around outside without a jacket, and the next day it's freezing cold, windy and raining. What do we want? Spring! When do we want it? NOW.
Okay, enough of that. I'm going to look on the bright side. When it's cold I bake bread and make soup! What could be better than a cozy soup supper next to the fireplace? How about dinner on the deck in my flip flops? Sorry. I did it again 🙂
Anyhoo, here's my grandma's recipe for hearty, flavorful, delicious, hamburger soup. Don't let the humble title fool you. This stuff rocks. Feel free to use 2 cups cooked pasta or rice in place of the potato if you wish, adding it at the end, just until heated through.
2 lb. lean ground beef
2 teaspoons garlic powder
2 teaspoons onion powder
2 teaspoons paprika (regular or smoked)
2 Tablespoons olive oil
2 stalks celery, chopped
1 large onion, chopped
6 large carrots, peeled and sliced
1/2 of a sweet bell pepper, any color, chopped
4 oz. fresh mushrooms (we like baby bella) sliced
1 large potato, unpeeled, cut into 1/2 inch cubes
1/4 cup dry red or white wine
6 cups low sodium beef stock
2 Tablespoons Worcestershire sauce
14.5 oz. petite diced tomatoes, undrained (we like fire roasted)
1/4 cup tomato paste
2 Tablespoons dry parsley flakes
3 Tablespoons dry oregano
1/2 teaspoon sea salt
1/2 teaspoon freshly ground black pepper
1/4 teaspoon cayenne pepper
In a large, heavy Dutch oven, brown hamburger over medium heat until almost done, adding the garlic powder, onion powder, and paprika as it cooks. Once only a little pink is still visible, transfer meat to a bowl and set aside.
Add olive oil to the Dutch oven. Once hot, add the celery, onion, carrots, bell pepper, mushrooms and potato. Saute, stirring frequently, until veggies are tender-firm. Deglaze pan with the wine, scraping up the brown bits from the bottom of the pot. Add meat back to the pot along with the stock, Worcestershire sauce, tomatoes, tomato paste, parsley, oregano, salt, black pepper and cayenne.
Cover pot with lid slightly askew and allow to gently simmer for 30 to 45 minutes, or until the vegetables are tender and the soup is very hot all the way through. Stir occasionally as the soup cooks. Serve with a little fresh grated Parmesan cheese over the top if you like. We love this with fresh, crusty, buttered baguette.
Enjoy!
~Melissa
You may enjoy these related posts: