Print Friendly Version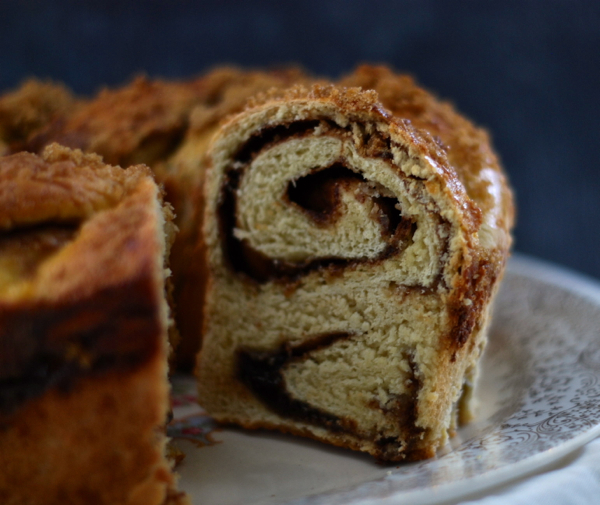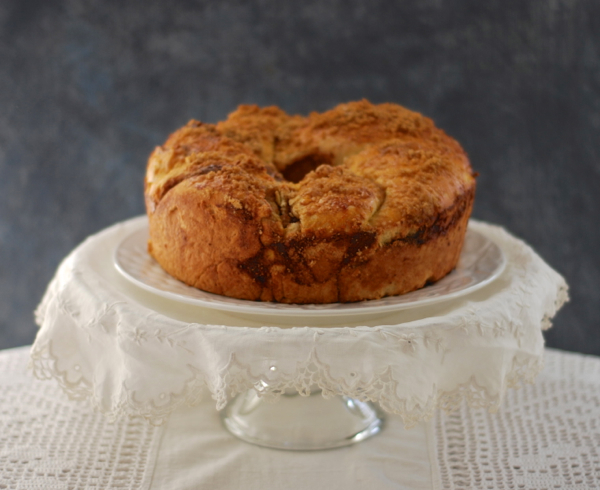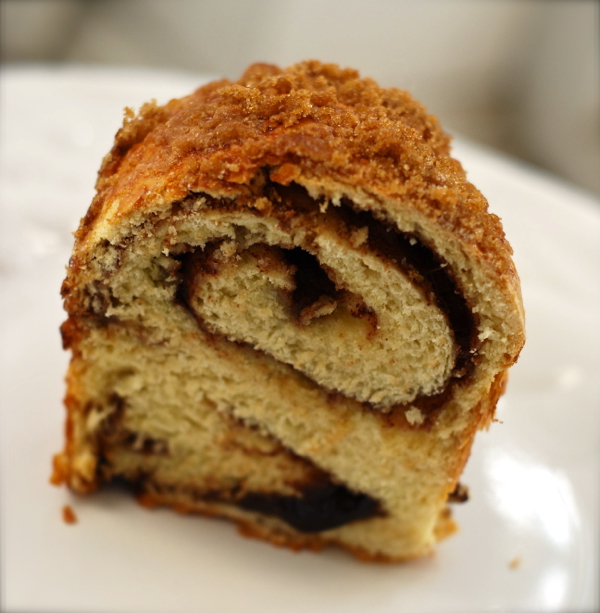 Okay, when you hear the word "babka," what immediately pops into your head? Uh huh. The Seinfeld episode with the babka. For me it's the same with marble rye and Twix candy bars. And most kinds of soup too, for that matter.  Who can eat a bowl of crab bisque or mulligatawny without thinking about Elaine and the Soup Nazi? I ask you.
So, making a babka has been on my recipe "bucket list" of things to make since I.. A) saw the Seinfeld episode and… B) Had some that my friend Jana brought over for me last Easter from the always-amazing Great Harvest.
This was my first attempt at this decadent bread, and it really did turn out great. If you plan on making this, let me just say in advance, the dough is a pain in the you-know-whatty to knead. Seriously. I almost chucked the bowling ball of  flour and other assorted ingredients in the garbage because I thought I had done something wrong. When I tell you to knead the dough (later on in the recipe) what I really mean is to almost throw your shoulder out, swear a few times, and finally get your rolling pin so you can flatten it out enough to turn it over on itself and sort of beat it into submission.
And yet, something magical happens during the rising process. I honestly thought a miracle had occurred in my kitchen. When I walked away from the bowling ball to let it proof, I was positive I would come back to a brick. I was wrong.
This is some of the most delicious bread I have ever eaten. So beautiful served warm with a little butter and accompanied by a big mug of coffee or tea.
for the bread:
5 cups sifted, all-purpose flour
1 teaspoon salt
1/3 cup sugar
2 (1/2 oz.) packets dry yeast
1 cup lukewarm milk
1/4 cup vegetable oil
2 large eggs, lightly beaten
for the brown sugar-cinnamon filling:
1 cup dark brown sugar, firmly packed
2 Tablespoons cinnamon
6 Tablespoons butter, softened
1 teaspoon pure vanilla extract
for the glaze:
1 egg yolk
2 teaspoons milk
3 Tablespoons brown sugar
Combine the flour, salt and sugar in a big mixing bowl. In a smaller bowl, mix the yeast, warm milk and oil. Mix well and allow to sit for 10 minutes. Pour yeast mixture into flour mixture. Mix well with floured hands, or in the bowl of a tabletop mixer, using the dough hook attachment.
Add the eggs and mix to combine. Turn out onto a floured work surface and knead for 10 minutes. (Don't say I didn't warn you.)
Butter a big bowl, and rub some butter on the dough. Cover the bowl with plastic wrap and allow the dough to rise for 1 and 1/2 to 2 hours or until light and doubled in size.
Cut the dough in half. Roll out one of the halves on a lightly floured surface to make a 10 x 18-inch rectangle that is 1/4-inch thick.
Mix the brown sugar and cinnamon in a small bowl. In another small bowl mix the vanilla and butter. Spread half of the butter mixture onto the rolled out dough, and sprinkle half of the brown sugar mixture over the top. Roll up the dough into a long "sausage" shape along the longest side. Repeat this with the other half of the dough and filling ingredients.
When you have two long rolls, tightly twist them together, taking care so the filling doesn't come out the sides of the rolls.
Place this long twist of bread into a well-buttered tube pan. Cover with plastic wrap and it to rise for another hour or two, until it puffs up.
Preheat oven to 350. Mix yolk and milk together and brush it over the top of the loaf. Sprinkle the 3 Tablespoons of brown sugar evenly over that. Bake in bottom third of your oven with no racks above it. Bake for 30 to 40 minutes, until golden brown and a wooden skewer comes out without any dough stuck to it when inserted into loaf. (If it seems to be browning too quickly, you can loosely cover it with foil towards the end of the baking time.)
Cool for 10 minutes before turning out onto a wire rack, and then turning it upright again to cool completely.
Enjoy warm, at room temperature, cold, re-heated or toasted.
Store in an air-tight container for up to 3 days.
Stay tuned for my recipe for Chocolate Babka….Coming Soon….
XO,
~Melissa
You may enjoy these related posts: