Print Friendly Version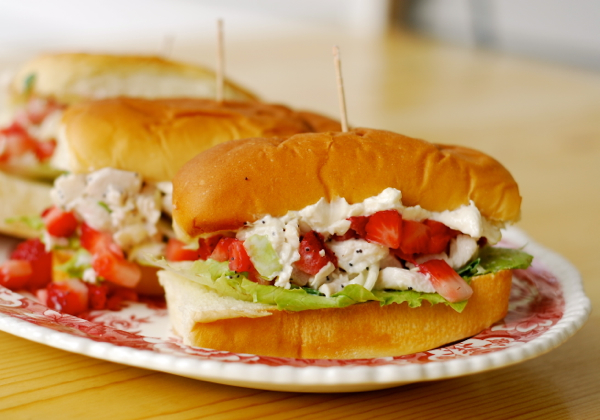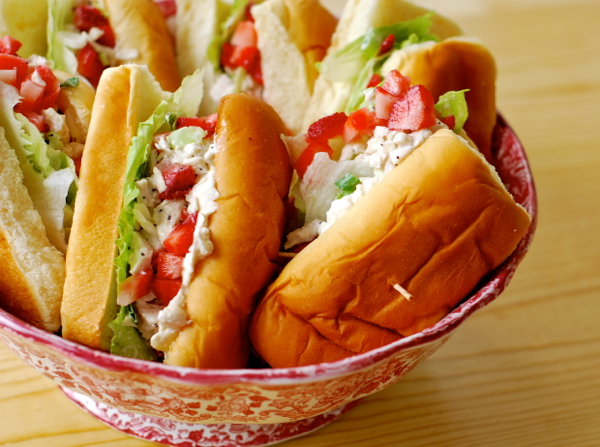 Here's a fun little sandwich recipe. These sandwiches are perfect for a picnic, tea party, or lunch in the garden. The flavors are sweet and bright. Delicious, pretty, summer fare.
for 6 mini sub sandwiches:
2 cups cooked, cubed, chilled chicken
2 green onions + green tops, sliced thin
1/2 cup shredded cabbage
1/3 cup sweet poppy seed dressing (recipe below)
salt and pepper, to taste
8 oz. container pineapple or strawberry cream cheese (you'll have some left over)
1 cup fresh strawberries, chopped
fresh lettuce leaves, washed and patted dry
6 King's Hawaiian mini sub rolls
Mix chicken, onions, cabbage and poppy seed dressing together in a medium mixing bowl. Salt and pepper to taste.
Spread a generous amount of the pineapple or strawberry cream cheese on the inside of the sub roll tops.
Place lettuce leaves on the inside of the sub roll bottoms. Top with some of the chicken salad and some of the strawberries. Place tops on sandwiches and secure each with a long toothpick or short bamboo skewer.
These are very good served with plain potato chips and your favorite summer salads.
for the homemade poppy seed dressing:
1/2 cup real mayonnaise
1/4 cup plain Greek yogurt
2 Tablespoons apple cider vinegar OR white vinegar
1/4 cup sugar OR honey
1 heaping Tablespoon poppy seeds
Combine all in a mixing bowl, using a wire whisk, until smooth. Transfer to a canning jar or cruet with a tight fitting lid. Cover and refrigerate until ready to serve. Shake well before each use. This will keep in your refrigerator for one week.
Enjoy!
~Melissa
You may enjoy these related posts: