Print Friendly Version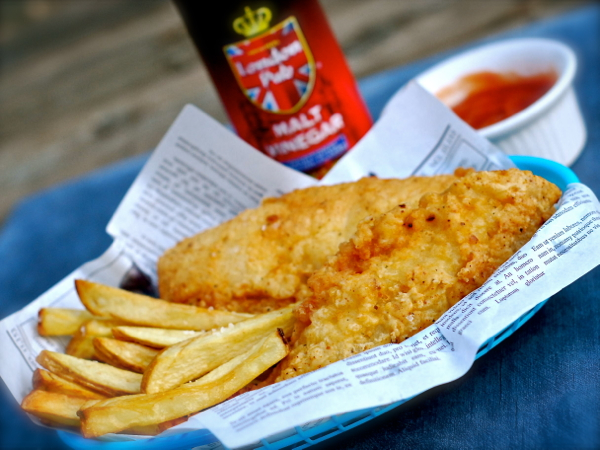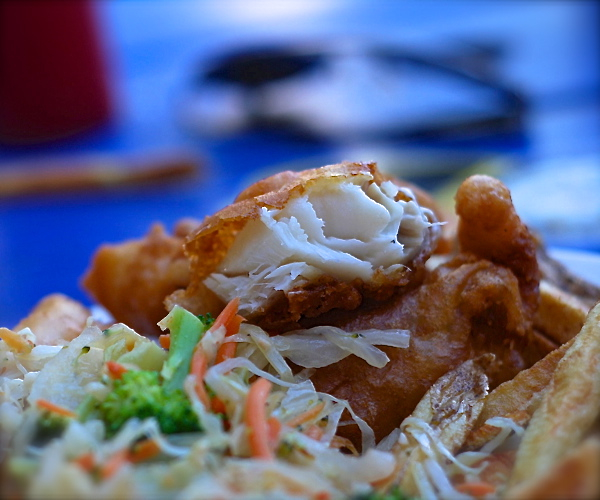 We were craving fish and chips this past weekend and instead of heading to the nearest pub, we decided to make up a batch at home. If you have a deep fryer it's easy! Make sure you give the deep fryer sufficient time to preheat to the proper temperature before cooking your fish and chips or they'll come out greasy and soggy.
*We made enough for 4 people, but if you're serving more people, you could fry a lot more fish and chips than we did in the amount of oil indicated.
*1 lb. (or more) cod fillets, fresh or completely thawed and blotted dry
4 big Yukon Gold or russet potatoes (or more), scrubbed and cut into thick fries
2 to 3 liters peanut oil, safflower oil or vegetable oil, for frying
1 and 1/2 cups flour mixed with salt and pepper, for dredging
2 large eggs, beaten
3 Tablespoons milk
 3 to 4 oz. beer (we used 1/3 bottle Pale Ale)
sea salt, pepper, cocktail sauce, tartar sauce, lemon wedges and malt vinegar for serving
Mix eggs, milk and beer to create batter.
Blot fish pieces dry. Dredge in flour mixture, shake of excess. Dip in egg mixture, and then back into flour mixture. Fry in preheated oil in deep fryer (set on 375 degrees F.) Fish is done when it's deep golden brown on the outside and flaky on the inside. We cooked ours for approximately 5 to 8 minutes, 2 pieces at a time.
Fry your chips in the same oil at the same temperature until golden. You can wait for them to cool and fry them again for extra crispiness, if you like. I like my fries super crispy and my chips a little more soft and tender. Just a personal preference.
Enjoy with any or all toppings suggested above.
Enjoy!
~Melissa
You may enjoy these related posts: