Print Friendly Version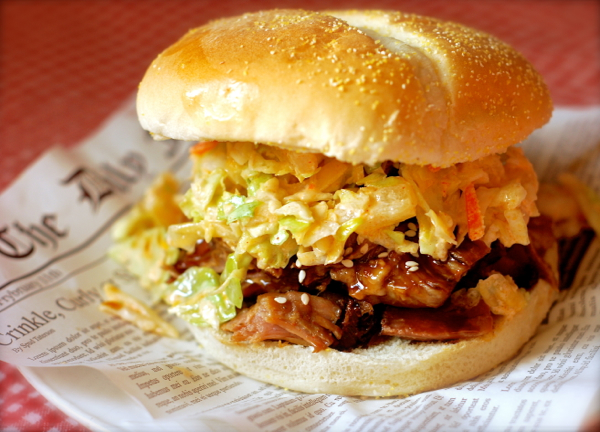 If you've never made pulled pork in your slow cooker/Crock Pot you're in for quite a treat. I was pleasantly surprised at how easy and delicious pulled pork is when prepared this way. The slow cooker literally does all the work. I've made it with the classic, sweet and smoky BBQ sauce several times (find that recipe by clicking on THIS LINK), but this time I decided to go Polynesian. The teriyaki sauce makes this dish rich and sweet, and the tropical slaw is cold, refreshing and crunchy. The perfect contrast of temperatures, textures and flavors. Seriously, SO freaking good! Enjoy as a pulled pork bowl by serving the prepared pork over rice, noodles, quinoa and/or stir fried veggies. Or, just serve it the classic way… on a bun!
for the pulled pork:
~ serves 8 to 12 people, depending on size of roast ~
4 to 5 lb. boneless butt/arm pork roast
1/3 cup brown sugar
1 Tablespoon smoked paprika
2 teaspoons Lawry's seasoned salt
2 teaspoons freshly ground black pepper
1 teaspoon ground ginger
1 teaspoon onion powder
1 teaspoon garlic powder
Place roast on a big cutting board. Mix the rest of the ingredients in a small bowl to create your meat rub. Once combined, rub the mixture all over the roast. Place roast in a 7 to 8 quart slow cooker. Set on HIGH for 2 and 1/2 hours, and then turn it to low for 4 to 6 (or just until meat is very tender and falling apart.)
Using two forks, carefully shred the meat right in the crock and mix it with the seasoned drippings.
While the roast is cooking, make the slaw:
1 (14 to 16 oz.) bag coleslaw mix
1 (14 oz.) can pineapple tidbits, drained very well
1/3 cup to 1/2 cup mayonnaise (or to taste)
1 Tablespoon honey
2 teaspoons toasted sesame oil
1/2 teaspoon smoked paprika
1/4 teaspoon sea salt (or to taste)
1/4 teaspoon freshly ground black pepper (or more, to taste)
Toss well, cover and chill until ready to serve.
To serve: Place some of the pulled pork on the bottom half of a bun (we used sour dough kaisers.) Drizzle some of your favorite teriyaki sauce over the shredded meat, followed by a sprinkle of sesame seeds and a scoop or two of the chilled coleslaw. Top with other half of bun and serve immediately. These are messy! You may need a fork.
Enjoy!
~Melissa
You may enjoy these related posts: