Print Friendly Version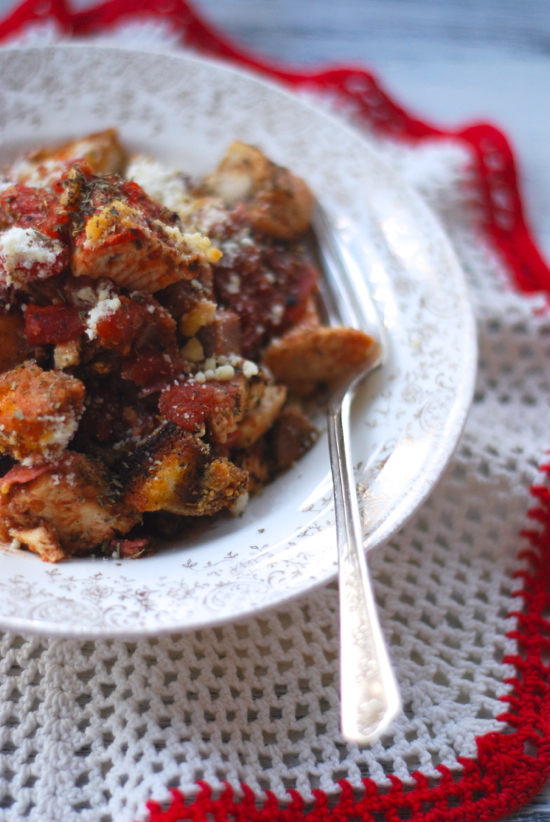 I'm consciously trying to not go to the grocery store in an attempt to use what we have in the fridge and cupboards before we go on vacation, and I'm posting this while I do ten piles of laundry. Have you ever noticed it's easier to pack light for a 10 day vacation in Hawaii than it is to pack for a long weekend at the lake? Why in the world is that? I remember getting everything I needed, including fancy outfits for dinners out, into a carry on when we went to Maui. I'm thinking the reason for the ginormous suitcase I'm bringing this time is because Minnesota weather is so unpredictable. That must be it. Gotta pack all those layers…jeans or shorts? sweaters or tee shirts? flip flops or rain boots? eh….pack it all!
So yeah, back to the subject at hand. Trying to use what's here and not go shopping. That was my challenge yesterday, and all except a can of organic diced Italian tomatoes…I did it! This bruschetta chicken cooks up in a flash and it's really good. I know the photo just looks like a bowl of croutons. You gotta trust me on this one.
4 heaping cups cooked chicken (boneless skinless breasts or rotisserie chicken meat work well)
1 link Italian sausage, cooked and chopped
1/4 cup chopped pepperoni
1 14.5 oz. can Muir Glen organic Italain diced tomatoes, undrained
1/2 large onion, chopped
5 cups croutons (homemade are awesome in this recipe)
1/2 cup Newman's Own Balsamic vinaigrette (or homemade)
2 large cloves garlic, minced
1/2 cup grated Parmesan cheese
2 Tablespoons dry Italian seasoning (or combo of basil, oregano, marjoram)
Place the meat in an even layer over the bottom of a 9 x 13 glass baking dish. Top with the tomatoes, chopped onion and garlic. Sprinkle the croutons on top, and drizzle with the vinaigrette. Cover with foil and bake for 20 minutes at 350 degrees F. Remove foil. Top with cheese and Italian seasonings. Bake for an additional 10 minutes or until hot all the way through. Great with a little green salad topped with artichoke hearts and a glass of vino!
Enjoy!
~Melissa
You may enjoy these related posts: