Print Friendly Version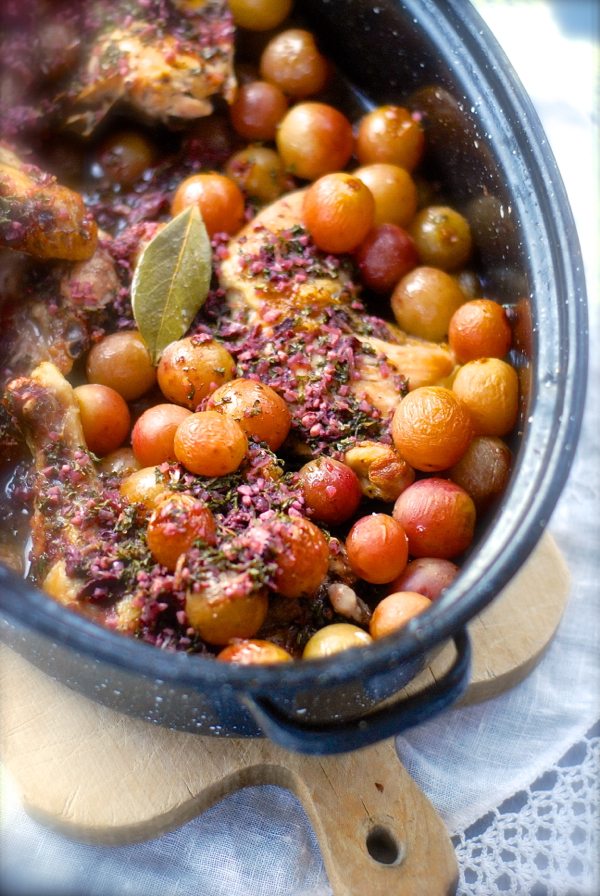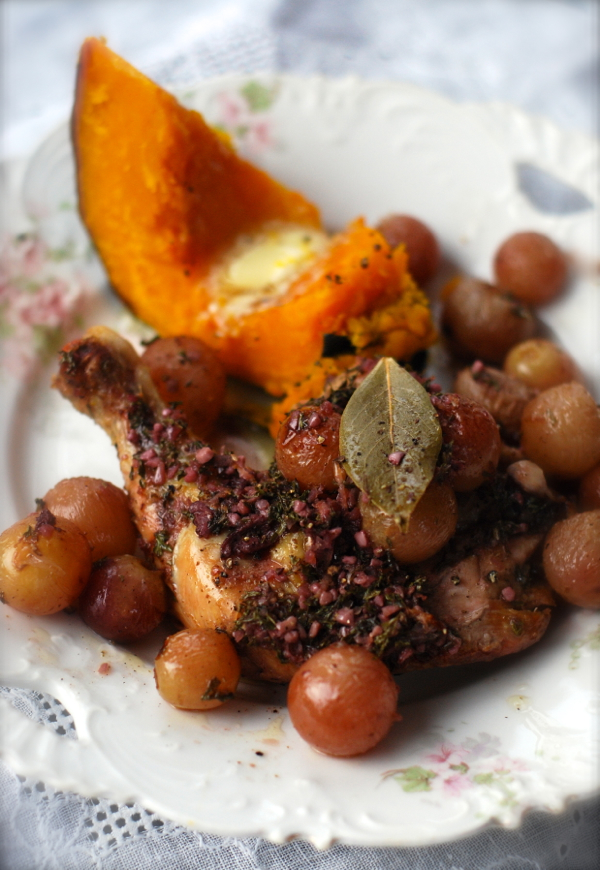 Grapes with chicken? Is that what you said when you read the title of this post? I was thinking the same thing the first time I heard about this dish. What in the world? Well, this is not only a pretty dish, it's loaded with flavor. There's this whole sweet and savory thing going on that I think you're going to enjoy. Much like the first time I made Savory Blueberry Pizza, I was pleasantly surprised. The grapes burst with juice and flavor after being roasted. SO yummy! This would make a beautiful main course for Christmas dinner or a wine tasting event.
for the chicken:
1 whole chicken, cut into pieces
3 Tablespoons olive oil
1 lb. red, seedless grapes, washed and patted dry and tossed with a little olive oil
Heat olive oil in a large cast iron skillet or Dutch oven. Pat chicken pieces dry and place them, skin side down, in the hot oil. Fry for about 6 minutes on each side until golden brown on both sides. Remove chicken to a roaster pan, skin side up, and sprinkle a little salt and pepper over the pieces. Toss grapes with a little additional olive oil. Pour the grapes over the chicken. Place in oven, uncovered and bake for 35-45 minutes, or until juices run completely clear when chicken is tested. While the chicken in roasting in the oven, make the pan sauce.
for the pan sauce:
chicken drippings
2 large cloves garlic, minced
1/2 cup chicken stock or broth
1/3 cup  dry red wine
2 Tablespoons butter
2 Tablespoons dry parsley or 1/4 cup fresh (chopped fine)
juice of one lemon + zest of one lemon
1 Tablespoon dry, minced onion
2 teaspoons dry or fresh thyme
2 large bay leaves
coarse sea salt and freshly ground black pepper to taste
Saute the garlic in the chicken drippings for one minute. Deglaze the Dutch oven with the stock and red wine, scraping up the browned bits with a wooden spoon. Add butter, parsley, lemon juice, lemon zest, minced onion, thyme and bay leaves. Bring to boil and then lower to a simmer. Cook for 15 minutes, stirring frequently, until slightly reduced.
When the chicken and sauce are done, pour the sauce over the chicken in the roasting pan. Plate chicken, pour some of the sauce over each piece and top with some grapes. Salt and pepper to taste. This dish is lovely with a simple arugula salad or THIS pear salad, and baked, buttercup squash.
Enjoy!
~Melissa
You may enjoy these related posts: