Print Friendly Version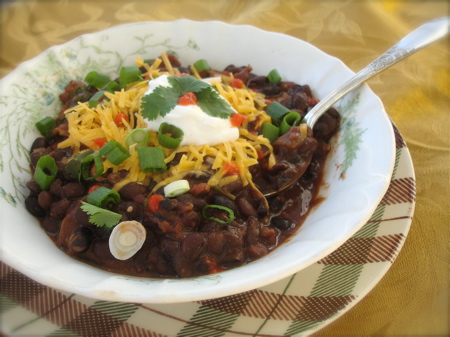 ~ bacony black bean soup ~
"As the days grow short, some faces grow long. But not mine. Every autumn, when the wind turns cold and the darkness comes early, I am suddenly happy. It's time to start making soup again!" ~Leslie newman
A hearty, smoky satisfying soup. Perfect for a casual, fireside supper with friends. Pass a basket of these savory bacon and corn muffins and serve with a dark, creamy beer or your favorite full bodied red wine.
10 slices good quality, thick cut, smoked bacon
1 large onion, chopped
6 large garlic cloves, minced
1/2 cup dry white wine or beer
2 cups low sodium, natural chicken broth or stock
28 oz. can organic, petite diced, fire roasted toamtoes
2 Tablespoons homemade or organic ketchup
1 Tablespoon Worcestershire sauce
2 Tablespoons chili powder
4 (15 oz. cans) black beans
kosher salt and fresh ground black pepper
juice of 1/2 lemon or lime
thinly sliced scallions
coarse chopped cilantro
grated sharp cheddar cheese
sour cream or Greek yogurt
Sriracha hot sauce
Place the bacon in a large, heavy skillet over medium heat. Cook 5 minutes. Stir in onions and cook, stirring until the onions are translucent (about 4 minutes.) Stir in garlic and cook 1 minute. Deglaze pan with the wine or beer. Add broth, tomatoes, ketchup, Worcestershire and chili powder. Stir in the beans, turn up the heat until the soup boils. Adjust the heat so the soup is simmering gently and cook 10 minutes. Season with salt and pepper. Stir in citrus juice. Cook for another 10 minutes. Ladle into bowls and garnish with scallions, cilantro, cheese, sour cream/yogurt and your favorite hot sauce.
Enjoy!
~Melissa
You may enjoy these related posts: